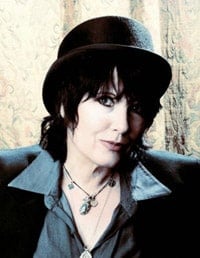 Best remembered for the Top 10 hits "Only the Lonely" and "Suddenly Last Summer" back in early '80s, Martha Davis — along with her ever-changing band The Motels — was one of the most evocative and prolific forces to emerge out of the late '70s L.A. new wave music scene. With her crazy eyes and brooding, introspective lyrics that often examined the underbelly of Hollywood, the immensely creative Berkeley,Calif.-bred musician has more than 1,000 songwriting credits to her credit, an achievement not likely to be matched by any of today's "artists." On the eve of her refurbished Motels' East Coast (mini) tour, I caught up with the woman who once sought to sell her soul for "Total Control." (Edited highlights below.)
KW: It's so great to talk to you. Now tell us, what can fans expect on this tour?
MD: A little of everything — old and new.
KW: How long has it been since you played New York City — and are you a big fan of the city?
MD: God, I really can't remember. Too long. I'm really more of a country girl — I live on a huge farm here in Oregon now after 30 years in L.A., you know I moved to L.A. in 1975 to make it overnight!. But I love playing New York. It's a great city. We're only going to be there one night, so I don't even think I will get to see much this time though. But now that I'm taking more control of my career I think I'll be back soon.
KW: Tell me about the band's experience on VH1's "Bands Reunited." (On the show, the classic 1983 Motels line-up was reassembled for a one-off gig.)
MD: It was great. The Motels always had a good time, so to see everybody again was great.
KW: There was a lengthy period between your solo albums in 1987 ("Policy") and 2004 ("… So the Story Goes"), that we didn't hear that much from you. Now suddenly you have three new albums out all at once. How did that happen?
MD: It's really kind of crazy. I actually had recorded "Beautiful Life" (one of the new releases) and nearly had it done quite awhile ago but then I met some great new people and it went from being a pop record to a concept album, inspired by my late Phi Beta Kappa mother who wanted to be Virginia Woolf but found herself stuck in a marriage with responsibilities that she could not escape from. After she committed suicide, when I was 20, I discovered she kept a diary — which I never even knew about. That was the ultimate gift she gave me. In it, she told me that I had to pursue my dream — whatever the cost. So even though I had two kids by the time I was 20 I decided that I had to try music. My dad thought I was crazy and that I should go back to school. But I knew I would never forgive myself if I didn't at least try. Now that I'm getting the hang of this online world and releasing albums on my own, you will be hearing a lot more from me. I have three other things I'm working on now, including a local band I'm putting together close to where I live.
KW: And finally, and pardon me if I'm being too nosy, but how does a musician make a living these days? Is it the royalties, the touring, the licensing? I've never really understood it all.
MD: It's all of the things you said. "Only the Lonely" and "Suddenly Last Summer" have been my lifeline. Even though neither song ever went to Number 1 — both went to Number 9 and I always say that if I ever have another hit I want it to go to Number 8 so I can say it was bigger! — neither of them has ever gone away. Did you hear "Suddenly Last Summer" on "The Sopranos"? That was so cool — and I got a nice check! Personally, that's the avenue I am looking for with the new music. I think "Last of the Bohemians" (from "This") would be great in an iTunes commercial! But that's what you need now to get exposure for your music. Personally, I think music should essentially be free. We all know how much a compact disc costs at Office Depot yet they want to charge people $17 for one. It's ridiculous. But touring will never cease to be profitable because people will never tire of seeing musicians play live.
KW: Well, thanks so much for talking to me. I can't wait to see you Saturday here in New York!
MD: You're so welcome. Make sure you come backstage and have a glass of wine with me!

To check out some of Martha Davis' music — old and new — visit the official MOTELS MySpace page here. You can download the latest Motels albums here.
TOUR DATES
Aug 27 2008 8:00P Capital Ale House / Richmond, Virginia
Aug 28 2008 8:00P Rams Head On Stage / Annapolis, Maryland
Aug 29 2008 7:00P The State Theatre / Falls Church, Virginia
Aug 30 2008 8:00P BB King / New York, New York
Aug 31 2008 6:00P 15th Annual American Music Festival w/The B-52's!! / Virginia Beach, Virginia
Sep 11 2008 8:00P The Coach House / San Juan Capistrano, California
Sep 13 2008 5:00P La Cereza Winery / Temecula, California
Sep 19 2008 8:00P L.A. County Fair w/The Bangles and Berlin! / Pomona, California