Towleroad will be at this year's Democratic National Convention in Denver in a week and a half!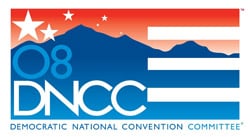 If you're going to be at the convention, or have a story or event you think we should cover, please contact me using our tips@towleroad.com address. I'll be there with our correspondent Corey Johnson. We hope to keep people as informed of all the goings-on as possible. I know a lot of you Towleroad readers are at LGBT organizations, and in media, and with ties to politics will be in Denver, so please contact me. We'd love to see and meet you.
As for as the Democratic Party Platform's inclusion of LGBT issues goes, there have been various drafts circulating with differing reports of what's in it and what's not. Pam Spaulding, who will also be there at the convention, has some specifics on the latest.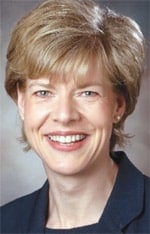 U.S. Rep. Tammy Baldwin spoke to reporters on Wednesday about the platform, which she helped draft: "She said the platform will call for repeal of the U.S. military's 'don't-ask, don't-tell' policy, which she said has resulted in 12,500 qualified service members being expelled since its enactment, at a cost of $360 million. She said it would mark the first time gay rights would be enshrined in a political platform. While party platforms are largely ceremonial, designed to rally the party faithful around a candidate, Baldwin said, 'It's a historical document in terms of LGBT equality.' Baldwin was appointed to the drafting panel after former Democratic presidential candidate Sen. Hillary Clinton recommended her. Baldwin was an adviser to the Clinton campaign on gay rights issues, and now she serves the same capacity for Barack Obama, who defeated Clinton in a bitter and drawn-out primary contest. She said Clinton will use the convention, which begins Aug. 26 in Denver, to rally her supporters around Obama's candidacy. 'I believe the convention itself will be the unifying moment,' she said. 'Our mission will be clear.'"
Some additional details on the DNCC Convention (themes and speakers) which have been released, AFTER THE JUMP…

Virginia Governor Mark Warner will be the convention's keynote speaker: "Warner, 53, briefly sought the Democratic presidential nomination but dropped out to pursue a U.S. Senate race against another former governor, Republican Jim Gilmore. Warner is far ahead in polls and fund-raising. Sen. Barack Obama (D-Ill.) is targeting Virginia as a traditionally Republican state that he could turn blue this year. The resources his campaign are pouring into the Old Dominion are emblematic of the party's optimism about cracking into the GOP's solid hold on the South's electoral vote. Warner, who endorsed Obama after dropping out of the primaries, has a post-partisan message that's similar to Obama's. Warner's a rising star in the party, paired with the established force of Sen. Hillary Rodham Clinton (D-N.Y.) on the second night of the convention. The duo is designed as a powerful display of the strength of the Democratic Party headed into the fall."

Denver Mayor John Hickenlooper will address the opening night of the convention and Colorado Governor Bill Ritter will speak at the closing night at Invesco Mile High stadium.

MONDAY – "ONE NATION": Speaker of the House Nancy Pelosi will speak on Monday night. Senator Claire McCaskill of Missouri and Craig Robinson, Michelle Obama's older brother will also speak that night. Michelle Obama will headline.

TUESDAY – "RENEWING AMERICA'S PROMISE": Tuesday night's featured speakers include Convention Co-Chair Kansas Governor Kathleen Sebelius and Arizona Governor Janet Napolitano, speaking on the economy, jobs, restoring fairness and expanding opportunity. Governors Ted Strickland of Ohio and Ed Rendell of Pennsylvania, Senator Bob Casey, Jr. of Pennsylvania and Governor Deval Patrick of Massachusetts will also speak on Tuesday, as well as Governor Brian Schweitzer of Montana and Federico Peña, former Mayor of Denver and Secretary of both Energy and Transportation. Senator Hillary Clinton will headline on Tuesday.

WEDNESDAY – "SECURING AMERICA'S FUTURE": Barack Obama's VP nominee will speak.

THURSDAY "CHANGE YOU CAN BELIEVE IN": Obama at Invesco Mile High Stadium. The fundies will be busy praying for rain.

As far as non-political high profile names at the convention go, the NY Post reported this: " Madonna, George Clooney, Matt Damon and Gwyneth Paltrow are expected to be among the celebs playing supporting roles when the convention begins two weeks from tomorrow. Others include Scarlett Johansson, Spike Lee, Quentin Tarantino, Forrest Whitaker, Susan Sarandon, Warren Beatty, Kanye West and Wyclef Jean. Michael Douglas and Catherine Zeta-Jones may also show…And Stevie Wonder, Sheryl Crow, Melissa Etheridge and the Black Eyed Peas are slated to perform."