A petition calling for Prime Minister Gordon Brown to reprimand Ulster Democratic Unionist Party MP Iris Robinson, whose remarks that gays should seek therapy to be cured were met by outrage earlier this year (she also compared gays to murderers) have been met by a collective shrug from Downing Street. The office responded: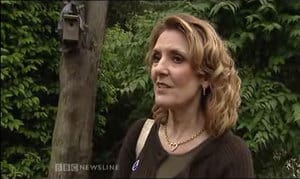 "There is no constitutional role for the Prime Minister to reprimand individual Members of Parliament who are accountable to their electorate for their own comments. The Government is committed to strong equality legislation in Northern Ireland and citizens in Northern Ireland are protected against discrimination on grounds of race, religious belief or political opinion, gender, sexual orientation, age or because of a disability. If anyone in Northern Ireland believes that they have been discriminated against on any of these grounds they may be able to bring a complaint to a tribunal or to a county court."
15,073 people signed the petition. Earlier this month, Robinson was hung out to dry at Belfast's Gay Pride parade.