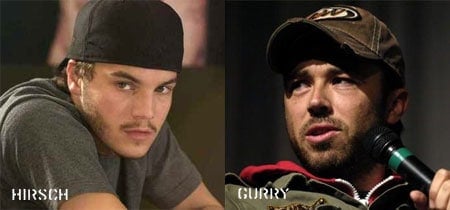 Emile Hirsch says he was just engaging in some non-gay work-out action when he was caught in a strange-looking situation with his Speed Racer co-star Kick Gurry, and now he's been prompted to explain it:
"Me and Kick were in the trailer hanging out. Kick was sitting back with his hands behind his head and I was doing push ups. It was hot so I peeled my driver's suit down a bit, and then Eric, the wonderfully gay production assistant, walked in. I jumped up really quick, but I was out of breath. Eric slammed the door shut. We went to Eric later and tried to explain. He was like, 'Shhhhh. I will never tell.'"
Hirsch is set to star this fall as gay activist Cleve Jones in Gus van Sant's biopic Milk.
Previously
Emile Hirsch Gets Wetter for David LaChapelle [tr]
Emile Hirsch Strips Down for David LaChapelle in Hawaii [tr]
Milk in Action on Castro Street [tr]
Emile Hirsch, Josh Brolin, James Franco Sign on to Milk Film [tr]