A Sacramento man leaving a party in San Francisco's Mission District that was being held in conjunction with the Up Your Alley leather fair was assaulted and stabbed by three men while three women looked on, police said: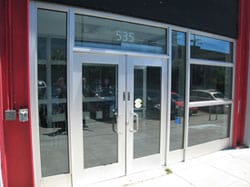 "According to police, the victim had just left the Bay of Pigs party held at the New York Studio space at 535 York Street in the inner Mission around 3:30 a.m. July 27 and was walking along Mariposa Street when three men, believed to be Asian, assaulted him while three women, also believed to be Asian, watched. 'They punched him; they stabbed him; and they left him for dead,' said San Francisco police Inspector Brian Danker. The suspects stole the victim's wallet, and Danker said he believes they targeted him due to his sexual orientation. 'I do think it is a hate crime. He didn't need to be beaten or stabbed the way he was. No one deserves that,' said Danker. "'The brutality of the attack is a hate crime; that is my story and I am sticking to it.'"
The man, who was not identified, was wearing a t-shirt and jeans at the time, and managed to make it back to the club where the party was being held. He is reportedly in stable condition at home. Police are appealing for information.
Man stabbed leaving leather party [bay area reporter]