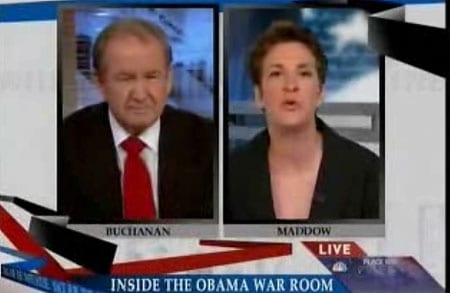 Rachel Maddow gave it to Pat Buchanan on Race to the White House Monday night when Buchanan tried to use a made-up quote to demonstrate that Obama has hubris. Thankfully, David Gregory has the correct quote on hand and Maddow uses it to argue that prejudice is driving the attacks on Obama, and finally hands Buchanan his own prejudice on a platter.
Some are suggesting that MSNBC is purposely not posting this segment online.
Watch it, AFTER THE JUMP…
Here's a partial transcript:
GREGORY: Let me break in. Smerc, you're coming. The actual quote, as Politico reported on this-this is what Obama reportedly said, according to Politico: "it's becoming increasingly clear in my travel, the campaign, that the crowds, the enthusiasm, 200,000 people in Berlin, it's not about me at all. It's about America. I have just become a symbol." Smerc.
SMERCONISH: All right, nobody was in the room from a journalistic standpoint when that statement was offered. But, the "New York Times," I'm amazed nobody has brought this up so far, June 4th, 2008, a direct quote from Senator Obama: "I love when I'm shaking hands on a rope line and I see a little old white lady and a big burly black guy and Latino girls and all their hands are entwined. They are feeding on each other, as much as on me. It's like I'm just the excuse."
In other words, he's said it before in the proper context. It's a feel good statement about the country and what he represents. We don't have to debate what he said behind closed doors, because we have him on the record. Giving him the benefit of the doubt, he said the same thing yesterday that he told the Times on this day.
MADDOW: Which I would argue is a symbol of humility and not hubris, but people want to run win the hubris line, I think for prejudiced reasons.
BUCHANAN: Is Dana Milbank doing this for prejudice reasons? Come on.
MADDOW: I'm not accusing him of being racist.
(CROSS TALK)
MADDOW: Pat, how could you look at-
BUCHANAN: Everybody that's critical of Obama, when he's in a rough patch, to which he's responding with angry ads which show these attacks are working.
MADDOW: Whether or not they are working, I think we have a responsibility to talk about whether or not they are deserved, Pat. I think when John McCain doesn't speak to Pat Buchanan as being presumptuous, when he calls himself President McCain, but Barack Obama speaks to you as presumptuous for doing something much less damning, that says more about you than it does about the candidate.
GREGORY: Got to take a break here. Coming back, your play date with the panel.