In May 2007, I reported that openly gay web entrepreneur and philanthropist Jared Polis had launched a bid for the U.S. House.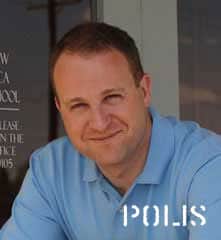 Polis fought a tough campaign against Joan Fitz-Gerald, for whom he was bypassed by many of the states top gay and lesbian donors. Polis, however, put $5 million of his own money into the campaign and yesterday came out on top in the 2nd Congressional District Democratic primary.
If Polis should win in November against Republican challenger Scott Starin, he would become the sixth openly gay person to serve in the U.S. House, filling the seat of Rep. Mark Udall, who is running for the Senate. The Victory Fund calls it all but certain that he'll be elected in November, as the Democratic nominee in a heavily Democratic district.
Said Polis: "I always worried that [being gay] would get in the way (of) giving back and contributing to our society. It was a great spirited race . . . and I think the people chose me for the ideas I articulated, the war in Iraq, the fight for universal health care, and really challenging the status quo. "Tonight is just a beginning. There are other important races to be won."