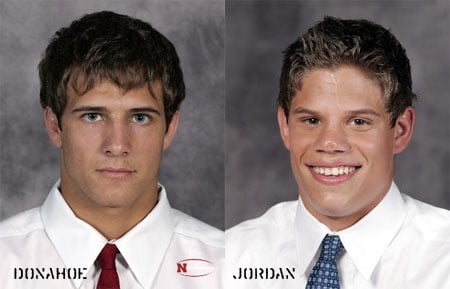 Paul Donahoe and Kenny Jordan, two nationally-ranked wrestlers from the University of Nebraska-Lincoln, have been dismissed from their team after a UN gossip site revealed the two had posed nude in solo shoots and videos for the fratmen.tv website.
Said coach Mark Manning: "The history of behavior of these men, including the current matter, does not reflect the standard of excellence we aspire to on and off the mat. We have outstanding student-athletes in our program and we will move forward in a positive manner toward our goals. I want to personally apologize for any embarrassment that may have been caused for our athletic department, the university and our fans."
According to fratmen.tv owner John Marsh, the two had both indicated to them that they were hoping to continue with their college wrestling careers. At this point they'd have to apply to the NCAA at a different school to do so.
Said Marsh: "If Nebraska is going to be pigheaded and kick him off unreasonably, there has to be another wrestling program that's going to want him." Of the money they earned on fratmen.tv, Marsh said: "It's not money that they would be making working as a waiter. They get well-compensated. It's better than beer money…I'm in my mid 40s, and my generation has a stigma about porn. The kids, the generation of the student-athletes, don't have that stigma. They really don't care. They've come from a Paris Hilton, Tommy Lee-Pamela Anderson sex tape generation, Myspace pages. The shame and stigma aren't there for them. They're mostly worried about what their parents are going to think, because their parents think it's horrifying."
Huskers dismiss 2 wrestlers accused of posing nude [ap]
You may have missed…
Nationally Ranked Nebraska Wrestlers Pinned on Gay Porn Site [tr]