Twenty-year-old Louis Church killed Weston Verrette, a popular gay high school teacher in Gretna, Louisiana last week and confessed to it, but the police spokesman said he won't be pursuing hate crime charges because Church said he was enraged that Verrette had come on to him: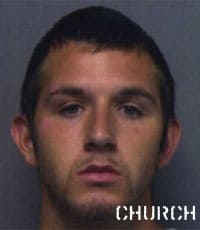 "Weston 'Tony' Verrette, 52, was found Friday afternoon in his bedroom, his throat slashed. By 10 p.m. that night, police had tracked down the suspect, Louis Church, 20, who had Verrette's wallet, cell phone and other belongings in his car. Church, later identified by police as the estranged stepson of retired Gretna Police Lt. Brad Church, confessed to murdering Verrette and claimed he had become enraged by Verrette allegedly making sexual advances on him, police spokesman Anthony Christiana said today."
Verrette had been helping Church get back on his feet because he was a "good Samaritan" according to the Deputy Police Chief.
Friends said Verrette was "generous to a fault": "Verrette, a French teacher and frequent traveler to Europe who had studied to be a monk in the hills of Florence, Italy, thought nothing of giving money away and opening his home to strangers in need, said Brien Gussoni, who knew Verrette for 27 years. 'He had a very hard life, and a lot of people did that for him,' said Gussoni, an attorney for the Port of New Orleans. 'You know, they'd take him in and help him. It was a payback kind of thing.'…Church…acknowledged that he had been homeless before Verrette met him on the levee in Gretna, took him in, fed him and gave him clothing, police said."