Rep. Stephanie Tubbs Jones died at 6:12 last night after suffering a brain aneurysm late Tuesday while driving her car.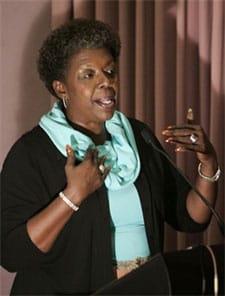 The Cleveland Clinic where she died released a statement: "Throughout the course of the day and into this evening, Congresswoman Tubbs Jones' medical condition declined. Medical doctors and neurosurgeons from Huron Hospital and Cleveland Clinic sadly report that at 6:12 p.m. Congresswoman Stephanie Tubbs Jones died. She dedicated her life in public service to helping others and will continue to do so through organ donations. Please keep her family and friends in your thoughts and prayers during this very difficult time."
The Cleveland Plain Dealer reports: "The 58-year-old Democrat, the first African-American woman in Congress from Ohio, was in her Chrysler about 9 p.m. Tuesday when a Cleveland Heights police officer spotted her driving erratically. When the car stopped, the officer found Tubbs Jones unconscious but breathing. She was rushed to Huron Hospital in East Cleveland, where tearful local leaders arrived throughout Wednesday."
Tributes to Jones from her colleagues came immediately. Barack Obama released this statement: "It wasn't enough for her just to break barriers in her own life. She was also determined to bring opportunity to all those who had been overlooked and left behind — and in Stephanie, they had a fearless friend and unyielding advocate." Hillary Clinton, whom Tubbs had strongly supported in the early half of the campaign called her "one of a kind, unwavering, indefatigable."
Tubbs Jones had a 100% rating from the Human Rights Campaign and fought for same-sex domestic partner benefits, funding for AIDS treatment and prevention, stricter hate crimes laws, and against the banning of gay adoption over her career.