John Edwards admits affair, says he lied during campaign.

Condoleezza Rice undermines McCain arguments, says U.S. would be safe with Obama: "Oh, the United States will be fine. I think that we are having an important debate about how we keep the country safe. I think we are having an important debate about our responsibilities, our obligations, our interests in the Middle East in the wake of the now increasing evidence of success in Iraq. Those are important judgments for the American people to make."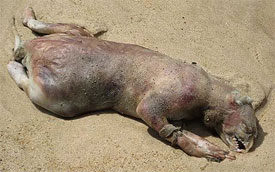 Settled: The "Monster" that washed up on the beach last week in Montauk, NY was a viral marketing campaign.

At 8:08 on 08/08/08: Singer Clay Aiken is a proud father.

Log Cabin Republicans launch Republicans Against Prop. 8″…Scott Schmidt: "Marriage is a personal decision. It's not up to the long arm of the government of when, where and whom you should get married to."

Sting goes shirtless for the final show of The Police in New York City.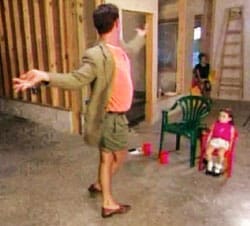 Radar on the unsung heroes of the child beauty pageant circuit: gay men.

Wingnut Randy Thomasson warns against horrors of 'Harvey Milk Day': "This will harm children as young [sic] kindergarten. Every May 22, AB 2567 will positively portray to children homosexual experimentation, homosexual 'marriages,' sex-change operations, and anything else that's 'in the closet.' Governor Schwarzenegger should say no to this very inappropriate bill, which has nothing to do with academic excellence."

Quentin Tarantino signs Brad Pitt for World War II action-drama Inglorious Bastards: "The 44-year-old actor will play a Southern rebel who assembles a team of eight prisoners-turned-soldiers to battle the Nazis."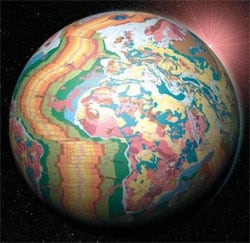 Group compiling dynamic first-of-its-kind map of Earth's geology.

Connecticut man attempts murder to end gay rumors.

Diva in polka dots: Elton John makes splash in Saint-Tropez.

Fashion critic Mr. Blackwell hospitalized, emerges from coma.

Canadian border agents confiscate laptop over gay porn: "While the gay men watched, a CBSA agent sat in their truck and poked through the contents of the laptop. When he ran into locked material, he got the passwords from them. Rick and Shawn say that, in retrospect, it was a slapdash search. The laptop was combed, but not their cell phones, Shawn's Blackberry, or the loose burned CDs in the truck's glove compartment. The CBSA officers went into their office. Time ticked by as Rick and Shawn pondered what to do next. About an hour later, a CBSA officer came back with bad news. 'He came back and said 'We're going to have to confiscate the laptop.' I asked why. He said it had 'questionable material," says Rick."

BLOCKED: Fred Phelps' Westboro Baptist Church also held up at Canadian border.