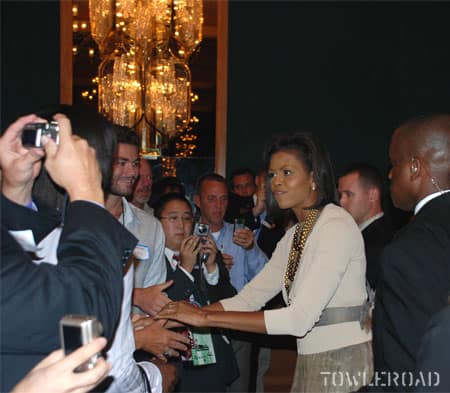 Before heading over to the Pepsi Center on Tuesday we stopped by the luncheon for LGBT Delegates Hosted by Rep. Barney Frank, with Rep. Tammy Baldwin, the Gay and Lesbian Victory Fund and Human Rights Campaign.

But the big event of the luncheon was an unscheduled appearance by Michelle Obama. I got a nice surprise when, after her speech, she stepped down and walked over to some of us and I was able to shake the hand of this impressive woman.
I also finally had a chance to meet Pam Spaulding of the excellent blog Pam's House Blend on Monday of the Convention. Pam has a brief clip of the crowd going nuts over Michelle Obama's introduction.
You can listen to a longer clip of Michelle Obama's remarks to the LGBT delegation, AFTER THE JUMP…
For our full DNC coverage, click here.