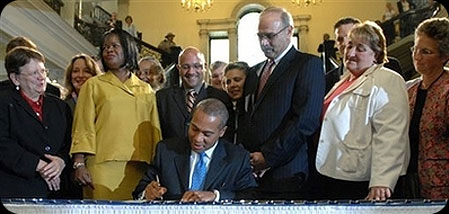 Effective immediately all gay couples can marry in Massachusetts.


EXCLUSIVE: Country Boys.


McCain Family Values: Let children suffer by not letting gays adopt.


First teaser trailer for W released.


Mike Jones: Larry Craig ate my butt.


Shooters kills seven at gay-affirming Knoxville church; hated gays, liberals.


Knoxville shooter a fan of Hannity, O'Reilly, Savage.


L.A. Mayor Villaraigosa pulls out of SF HRC dinner; lesbian claims assault.


That ain't right: Nike pulls ad after homophobic complaints.


Nelly drops his pants for Sean John underwear.


Gay marriage opponents to sue over new language in Proposition 8.


NYC cop assaults cyclist in Times Square.


Ashton Kutcher and Justin Timberlake fight over ownership of the trucker hat trend.


Monica Badling: Report concludes Department of Justice engaged in anti-gay bias.


UVA football players arrested for stealing beer from gay bar.


Anglican bishops scheme to force gay bishop's resignation, Vatican meddles.


Big Brother's bodybuilder Jesse: Narcissexual and flexer for gays.


Ugandan AIDS activist arrested, tortured, dumped.


Lambda Literary Awards: Memorial for 20 years of writers.


THE TUBE: Earthquake, Judge Judy, Jude Law, Renny & Jerry,Christian the Lion.


Gay SoCal blogger exposed as 9/11 scam artist.


Antonio Sabato Jr.: gay or stupid?


Gay lube oil: the new steroids.


John McCain ads: lying about troops and flogging Paris and Britney.


Obama says McCain taking the low road, slams 'politics as a game'.


MUSIC: Is everyone gay?


House panel votes to hold Karl Rove in contempt.


Arrest made in murder of Colorado transgender woman.


Australian man guilty of deliberately spreading HIV.


SWIM: Andy Warhol pool.


LAPD Chief Bratton: Paparazzi is tamed because Lindsay Lohan is gay.


Rachel Maddow smacks down Pat Buchanan.


James Franco talks about Sean Penn Milk kiss.


PLUS: Gerald Butler, Marc Jacobs, Ed Westwick, Damien Hirst, Christopher Ciccone, Cole Ryder, Marco Dapper.