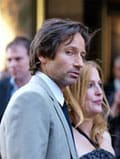 Gay inmates in California prisons and county jails will soon be able to marry their partners, as long as their spouse is not also incarcerated, prison and jail operators said Thursday. State prison and county jail overseers were putting finishing touches on the new policy to follow the state Supreme Court ruling in May legalizing gay marriage. I can't wait till everybody starts registering at the prison commissary.

The Naked Truth: David Duchovy, aka Mr. Tea Leoni, has entered rehab for sex addiction. (I'm guessing Bree Sharp is partially responsible for this mess.)

Speaking of which, sex ads on Craigslist Denver have spiked dramatically since the convention began.

Some people aren't buying that Jennie Garth and Shannen Doherty (who WAS "Beverly Hills 90210" as far as I'm concerned) would actually be in the same room for a photo shoot.

Homophobia Hotline: Police in Peel Region, a suburb of Toronto, have set up a special LGBT Hate Crime Hotline, believed to be the first of its kind in North America.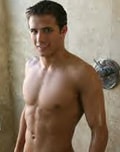 Husker No More: Paul Donahoe, one of two University of Nebraska wrestlers dismissed from the team after posing naked for videos and photographs on an Internet gay pornography site, has transferred to Edinboro University in Pennsylvania.

One of Europe's most high-profile gay politicians, Bertrard Delanoe, Paris' openly gay mayor, will run for leader of France's Parti Socialiste.

Don't you hate when you "misread the law" and end up kidnapping the child you had with your ex lover?

The New York Post gives us the Best Male Abs.

Runs in the Family? O.J. Simpson reportedly got his ass kicked by his 39-year-old daughter, Arnelle. Too bad she didn't nearly cut his head off.

Fashion Gamble: Michael Jackson put on his good jammies to pre-celebrate his 50th birthday at Planet Hollywood in Las Vegas.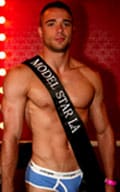 The legendary Billie Jean King talks to 365Gay.com about her new book, "Pressure is a Privilege." Its lessons are 35 years old but, as King says, they are more relevant today than ever.

The LPGA's new English requirement: racist and illegal or a reasonable request for the good of the game?

Meet the Los Angeles winner of Undergear/Instinct Underwear Model Search.

I enjoyed "Not Another Teen Movie." But the reviews of "Another Gay Sequel" are coming in, and it ain't pretty.

Just Hairable: Welcome to the Bad Hair Hall of Fame.