Since I posted in May about the casting of Demetri Martin as Elliot Tiber, the gay interior decorator, hotel manager, and Bethel, NY Chamber of Commerce head who played a central role in facilitating the legendary rock festival in upstate New York, the cast has evolved quite a bit.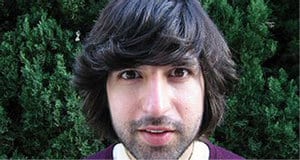 Variety reported this week on these developments: [Imelda] Staunton and Henry Goodman will play Tiber's parents, and Jonathan Groff (currently starring in the Shakespeare in the Park production of 'Hair' in Gotham) will play Woodstock organizer Michael Lang; [Emile] Hirsch will play a recently returned Vietnam vet, Eugene Levy will play Yasgur, and [Liev] Schreiber is in talks to play a transvestite named Vilma. Jeffrey Dean Morgan is set as a closeted married man having an affair with Tiber, while Paul Dano and Zoe Kazan play a hippie couple attending the concert. Dan Fogler will play a local theater troupe head, and Mamie Gummer will play Lang's assistant."
It's a New York theater junkie's acid trip!
Previously
Ang Lee to Make Film About Gay Woodstock Figure Elliot Tiber [tr]