Last week, Dennis Kucinich delivered a petition with 100,000 signatures to Speaker of the House Nancy Pelosi urging impeachment proceedings to begin.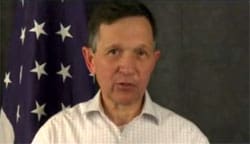 Says Kucinich in a new video: "Just recently we've learned, again, that the White House was involved in trying to ocook the books at the CIA to try to create a phony link between Al Qaeda and Saddam Hussein. We cannot let this pass. We cannot let it slide. We cannot stand by and watch the destruction of our Constitution even as this president is on his way out the door. There has to be accountability. Which is why this effort is continuing. Make no mistake about it. The effort towards accountability is not going to cease as we approach an election. It's not going to stop once the election's over, and it's not going to stop when a new president is sworn in. The Bush administration must be held accountable for the crimes they have committed."
Watch it, AFTER THE JUMP…
As Crooks & Liars notes, due to the msm impeachment news blackout, most Americans have no idea a brief hearing on the issue even happened.