A gay couple in Cancun, Mexico were slaughtered in a brutal killing by four teens in a robbery that turned deadly, according to Mexican news media.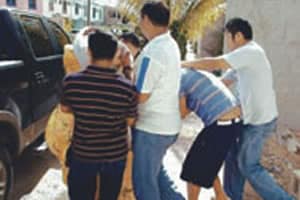 On Top magazine reports: "Ricardo Humberto Santos and Cesar Castillo were the victims of an apparent homophobic attack in their home last Saturday. The teens, ages 14 and 15, planned on injuring then robbing the couple of a car and a plasma screen television, but killed them instead. The teens then took off with several worthless electronic devices, including a DVD player. Police say the minors lived only 3 houses away and had been inside the house previously. Two other teenagers, both 16, are wanted by the police as suspected accomplices…According to the police, the men were killed while engaged in sex with the teens. Results of an autopsy showed that Santos was stabbed 38 times and Castillo 34. The boys confessed to police the gory details of slicing one of the pair's throat while having oral sex."
The teens are thought to belong to a neighborhood gang and scrawled anti-gay messages on the side of the home which led to their arrest.