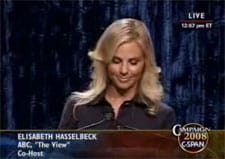 View host Elisabeth Hasselbeck showed her support for Cindy McCain at the RNC by taking a swipe at Michelle Obama, suggesting that Obama is keeping some sort of devious secret.
"Cindy came into our hair and make-up room fresh as can be. And unlike another wife of a political candidate who shall remain nameless, she didn't come with a list of topics that we weren't allowed to touch. Nope. That's because she has nothing to hide."
Except, of course, most of her tax returns.
Watch the clip, AFTER THE JUMP…