Barack Obama and John McCain's joint statement on the economy.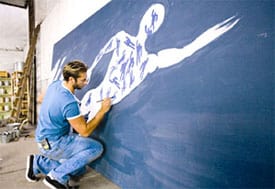 Ian Thorpe dabbles in painting.
"Ex-gay" Alan Chambers to lead simulcast rallies for Prop. 8 at churches via satellite.
This doesn't look like a "suspended" campaign to me. Also, this morning, "while McCain says he was meeting with key advisors and becoming increasingly concerned about the financial crisis facing the country — he was actually holding a special meeting with Lady Lynn Forester de Rothschild, the expat international financier who once supported Hillary Clinton but now is supporting McCain because she thinks Obama is 'elitist'.
Clay Aiken still a working dad.
Pepsi grants $500,000 to PFLAG. Exec director Huckaby: "PepsiCo has provided PFLAG with an enormous gift, and an unparalleled opportunity, to demonstrate the power we have to create change, no matter where we are, or who we are. Because of the Foundation's generosity and commitment, we now have the resources to produce materials for our chapters to use in their communities, and to create critically important conversations, in every corner of our country."
SICK: NYPD tasers chemically imbalanced naked man on ledge, who falls to his death.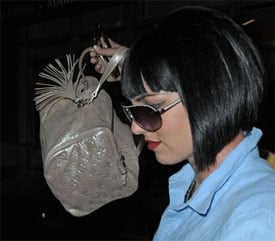 Britney Spears wigging out again.
Study supports gay adoption: "…findings by a nonpartisan adoption group being released Thursday conclude that gays and lesbians are an important resource for children awaiting adoption. There is near "universal professional consensus" that these applicants should be judged on their qualifications, not sexual orientation."
Polish men get community service, fine, for anti-gay threats, assault: "The pair downed vodka with the couple, also Polish, before turning nasty, Bradford Crown Court heard last Thursday…Prosecutor Dave MacKay said the gay couple, from Keighley, asked the defendants to help move some of their property. All drank vodka together and Klodzinski and Szofer began making homophobic comments. Klodzinski, of Holker Street, Keighley, shouted: 'I kill gays,' the court heard. Both he and Szofer, of North Street, Keighley, were told to leave but they returned to break a window and hurl plates at the couple. One of the men was punched in the face by Szofer and kicked on the knee by Klodzinski."
Two big Broadway shows are getting the old heave-ho…
A McDonald's hamburger from 1996: how it looks today.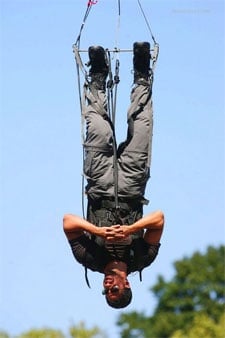 David Blaine completes Central Park hanging stunt.
Tim Gunn does an interview with Time Out and talks about his favorite New York moment: "We had just wrapped the taping of Project Runway season two. Season one had aired, and there were mixed reviews in the industry, including a fair amount of snarkiness about whether it was a quality program. On Bastille Day 2005, I was in my office and received a call from Lauren Zalaznick telling me we had been nominated for an Emmy. I went screaming down the halls to see the producers, who were a floor below me, shouting at the top of my lungs, 'We've been nominated for an Emmy! We've been nominated for an Emmy!' I remember it vividly. And one of the things I was most pleased about was, 'Take that, Seventh Avenue snarkiness. Take that!'"
Brazilian gay rights group Arco-Iris launches petition drive in support of law criminalizing homophobia.
Travolta to play secret agent in new Luc Besson film?
Little Britain USA is on its way…
Scientists: is melting of the arctic ice cap triggering a methane timb bomb? "Underground stores of methane are important because scientists believe their sudden release has in the past been responsible for rapid increases in global temperatures, dramatic changes to the climate, and even the mass extinction of species. Scientists aboard a research ship that has sailed the entire length of Russia's northern coast have discovered intense concentrations of methane – sometimes at up to 100 times background levels – over several areas covering thousands of square miles of the Siberian continental shelf."