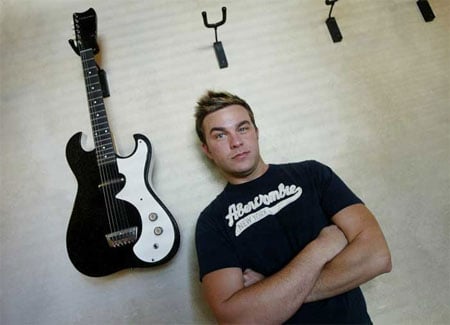 PROTESTS COMPANY'S 'HIERARCHY OF HOTNESS'
Abercrombie & Fitch's hiring practices are being scrutinized once again by the Dallas Morning News, which last week featured the story of former gay Big Brother contestant Joshuah Welch:
"Sales people function as the store's advertising and are handpicked by current employees, said Joshuah Welch, a 26-year-old Dallas resident, was hired two weeks ago as a manager and told to recruit people who walked into the store looking 'all-American, clean, wholesome, or the girl or boy next door.' He said stocking employees, on the other hand, are told not to speak to customers. 'It's a hierarchy of hotness,' he said. The job is 'a cattle call and you are hired based on looks, not your ability to fold clothes or work with people,' Mr. Welch said…He just quit his managerial training program at the NorthPark store after his bosses told him he would have to leave if he didn't get rid of his new blond highlights. 'I need a job where I am appreciated for the work I do, not because I fit into their mold,' said Mr. Welch, who previously worked for Abercrombie in Austin before appearing on a season of the CBS reality show Big Brother. 'I thought they had evolved, but they haven't,' he said."
You may remember Joshuah as the Big Brother contestant who misinformed his housemates that gay men can't get HIV if they're topping their partners.
(via afterelton and reality blurred)