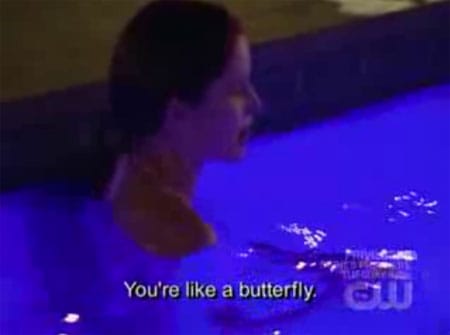 Last night was the debut of Cycle 11 of America's Next Top Model which featured perhaps the most silly 'futuristic' themed overhaul ever put on by Tyra Banks, but also the debut of pre-op transgender model Isis, whose presence is certainly one good reason to keep your eyes on this season. The other models' reactions to this contestant in their midst presented a range of reactions from the most accepting to the most bigoted.
What stood out most, however, was Isis' own strength through it all.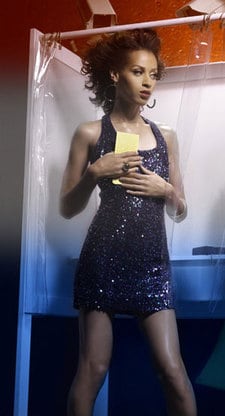 The action starts at around 1:36 in the clip AFTER THE JUMP…
Says one contestant Sharaun: "Isis is over the top. America's Next Top Model is not going to be a drag queen. I'm sorry. It's not."
Says another, McKey: "Isis is a pretty cool chick. In the situation that she's in, you'd think that she'd want to hide everything, but she's open, she's forthwith, she's not gonna hide who she is from anybody. I'm a big fighter girl and I think that she is, like, tenfold more brave than I am."
McKey and Isis swim together in the pool, where Isis explains her transition from male to female:
Isis: "Transitioning is like going through puberty all over again. It's like, I started out as like, a kid and now I'm like… I'm developing.
McKey: "You're like a butterfly."
Two other contestants then share their discomfort:
Clark: "I'm not gonna lie. It makes me uncomfortable as hell. It freaks me out that she got something else different down there than me."
Hannah: "I think the thing about Isis though is like, I was like trying to convince myself I was comfortable. I can't even comprehend I'm comfortable. But really, I'm not. Sometimes people have a really warped view of transgender people…coming from a small town, hell yeah we have a warped view."
Clark: "Hell yeah. You walk around like that in a small town, you get shot. And it's not so much a close-minded view, it's just more traditional. Coming from a good Southern family I was really thrown back by Isis. Growing up in the South you don't exactly run into a 'he-she' every day. Isis has no place in this competition."
There are a few other reactions in this episode that aren't highlighted here. Asian model Sheena shows her support for Isis early on, and one other contestant (I believe she's already been booted) said that if she needs to, "she'll stomp that man down."
Watch the clip, AFTER THE JUMP…
Previously
FOX Apologizes for Remarks about Transgender Model [tr]
FOX Mocks Next Top Model Transgender Contestant Isis [tr]