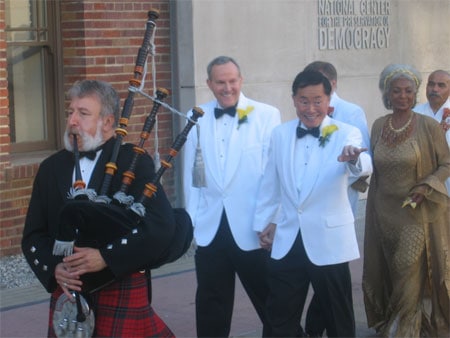 GLAAD's Damon Romine attended the weekend wedding of former Star Trek actor and outspoken gay activist George Takei to his partner of 21 years, Brad Altman.
Romine snapped a few shots, including the one above. Video, AFTER THE JUMP…
From GLAAD's report on the nuptials, which took place at the Democracy Forum of the Japanese American National Museum, "the museum Takei helped create to honor those forced, as he was, to live in WWII internment camps.": "Officiated by a Buddhist priest, the ceremony featured koto music and the san-san-kudo sake ritual. Takei, 71, and Altman, 54, exchanged matching turquoise wedding bands designed by Navajo silversmith Clyde Woody. The couple wrote their own vows. 'I vow to care for you as you've cared for me … and to love you as my husband and the only man in my life,' Takei said as he held Altman's hands. The priest then pronounced them 'spouses for life.' A bagpiper led the newlyweds to their reception as family and friends greeted the couple with streamers and confetti."
Video of the wedding procession, AFTER THE JUMP…
Congrats to the happy couple.
More from Reuters…
Takei and Altman will travel to Argentina and Peru on their honeymoon.
You may have missed…
George Takei and Brad Altman Get Marriage License in WeHo [tr]
Star Trek's George Takei and Brad Altman Talk Marriage [tr]