Michelle Obama spoke at an 'LGBT Reception' fundraiser at the home of CAA managing partner Bryan Lourd and his partner Bruce Bozzi Wednesday night (photo not from event).
From Patrick Range McDonald's pool report: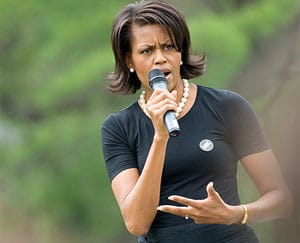 "Approximately 300 donors attended the fund raiser, which took place in the wealthy, Los Angeles neighborhood of Holmby Hills. Minimum contribution for a guest was $1,000 to get through the door. Supporters who raised $25,000 were given access to a VIP room, where Obama met with them and briefly spoke. All money went to the Obama Victory Fund. Some of the entertainment industry figures who attended the fund raiser were Kevin Huvane, managing partner of CAA, actress Kate Bosworth, actress Helen Hunt, producer Paula Weinstein, actress Salma Hayek, openly gay fashion designer Tom Ford, openly gay producer Bruce Cohen, and actress Reese Witherspoon. Former South Dakota senator Tom Daschle, who was in Los Angeles campaigning for Barack Obama, was also a guest. Los Angeles gay community leaders who attended the event were Los Angeles City Councilman Bill Rosendahl, West Hollywood City Councilman John Duran, and restaurateur David Cooley, all of whom are openly gay."
Obama spoke briefly and touched on gay and lesbian issues DOMA, 'Don't Ask, Don't Tell', and gay adoption, according to McDonald. She also spoke about the Iraq war.
The Daily Breeze reported that this and another fundraiser at the home of Samuel L. Jackson raised $1.5 million for the Obama campaign.
The full pool report here…
You may have missed…
Michelle Obama Speaks to LGBT Delegates at Convention Lunch [tr]