Italian comic Sabina Guzzanti participated in an anti-government protest at Rome's Piazza Navona and is under fire for suggesting that the ermine-clad Catholic leader will be dead and in Hell within 20 years, where he'll be 'screwed' by gay devils: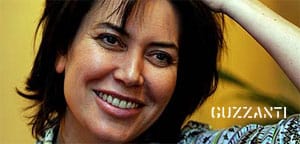 "Speakers at the rally on Piazza Navona also protested against excessive interference by the Vatican and the Catholic Church in Italian affairs, from abortion to gay rights. Ms Guzzanti, noted for her satirical impersonations of Mr Berlusconi, told the crowd that within 20 years Italian teachers would be vetted and chosen by the Vatican. She added: 'But then within twenty years the Pope will be where he ought to be, in Hell, tormented by great big poofter devils — and very active ones, not passive ones.' Giovanni Ferrara, the Rome prosecutor, said that he had asked Angelino Alfano, the Minister of Justice, for permission to proceed with a prosecution."
Insulting the Pope can carry a prison sentence of five years. According to the Times Online, "Magistrates said that no legal action would be taken against the comedian."
As far as I know, there have been no complaints from gay rights groups upset by Guzzanti's suggestion that the devils in Hell are gay.