John McCain appeared on The View today.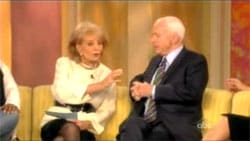 Barbara Walters pressed him on his specific reforms, Joy Behar made the accusation that his ads are lies, Whoopi questioned him on the separation of church and state and asks him if his selection of Palin gave him pause on the topic.
On abortion, McCain says he thought Roe v. Wade was a bad decision and he wants people who interpret the Constitution the way our founding fathers intended them to. Whoopi then asks if that means she'll be returned to slavery.
McCain also told a big fat lie about Sarah Palin's pork projects.
Watch it, AFTER THE JUMP…
Josh Marshall at TPM notes that McCain's statement about Palin's earmark rejections is a big fat lie:
And Matthew Rettenmund at Boy Culture had a short interaction with McCain after his View appearance…