John and Cindy McCain's fleet of vehicles is under scrutiny, particularly in the car-manufacturing swing state of Michigan. Newsweek reports that the McCain family owns more than a dozen cars while the Obamas own one: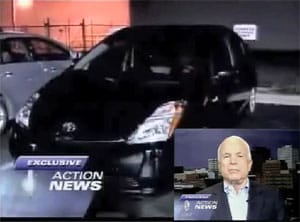 "When you have seven homes, that's a lot of garages to fill. After the fuss over the number of residences owned by the two presidential nominees, Newsweek looked into the candidates' cars. And based on public vehicle-registration records, here's the score. John and Cindy McCain: 13. Barack and Michelle Obama: one."
Newsweek also notes that most of the cars are registered under Cindy's name. Huffington Post has a slide show.
Obama's car is a 2008 Ford Escape Hybrid, a replacement for a Chrysler 300C. Consider the outrage from the right if it was Obama that was the automotive glutton in this situation.
McCain was interviewed by a Michigan news station in September and attempted to explain why he doesn't buy American. He also said that his daughter Meghan bought her Prius herself, although last year he said that he had bought it for her. McCain lies, "I've bought American literally all my life and I'm proud." At least three of the McCain's vehicles are foreign-made.
Watch it, AFTER THE JUMP…
Previously
John McCain Doesn't Know How Many Houses He Owns [tr]