Old habits die hard for George Michael. In a statement released on Sunday, Michael apologized to his fans and the public after being arrested once again over the weekend.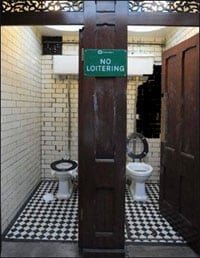 Both the venue in which his arrest was made — in men's toilets near London's Hampstead Heath — and the reasons for his arrest — possession of crack cocaine and cannabis — are not unfamiliar to Michael.
Michael came out of the closet in 1998 after exposing himself to an undercover cop in toilets in Will Rogers Park in Beverly Hills, California in 1998. He has also been caught coming out of a "cottaging" area on Hampstead Heath in 2006 with another man, and has had prior drug arrests after being found passed out in the driver's seat of his car.
A police spokesman confirmed the arrest: "I can confirm that a 45-year-old man was arrested on September 19 on suspicion of possession of drugs in the Hampstead Heath area. He was taken to a north London police station where he received a caution for possession of class A and class C drugs."

Michael got lucky this time. Police, who were tipped off by a lavatory attendant, gave him a warning and sent him on his way, saying the singer showed "remorse."
Said Michael on Sunday: "I want to apologise to my fans for screwing up again, and to promise them I'll sort myself out. And to say sorry to everybody else, just for boring them."