Fabio Brandao, a 28-year-old man from Framingham, Massachusetts, has been arrested in connection with an attack by four men on three gay men and a woman in Boston's South End: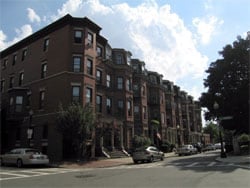 "'They started yelling out slurs directed to my friends, calling them 'faggot' and 'better not look over here [expletive] faggots," Jenna, a 23-year-old Jamaica Plain resident, said yesterday as she described the Aug. 25 attack. Jenna said she stepped in front of one of the men, hoping to defuse the situation, and was stunned when he attacked her. 'He punched me directly in the face as hard as he could,' she said. Within seconds, Jenna said, she was knocked to the ground; one of her friends was unconscious and being kicked and beaten about the head; a third had fled, bleeding profusely from a scalp wound; and a fourth was frantically calling police on his cellphone. 'It wasn't a fair fight at all,' said Jeff, the man who was trying to summon help on his cellphone. 'None of us are big, muscley guys or into karate or something like that.'"
Brandao was arrested Friday night and charged with assault and battery with a deadly weapon. No word yet on the status of the other suspects.