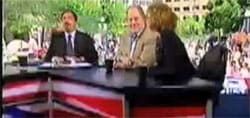 Talking Points Memo picked up on this conversation caught on a live mic after Republican pundits Peggy Noonan and Mike Murphy thought they were off the air with MSNBC host Chuck Todd.
Here's a short transcript. Longer one at TPM. Watch (and listen), AFTER THE JUMP…
PN: It's over.
MM: Still McCain can give a version of the Lieberman speech to do himself some good.
CT: I also think the Palin pick is insulting to Kay Bailey Hutchinson, too.
PN: Saw Kay this morning.
CT: Yeah, she's never looked comfortable about this —
MM: They're all bummed out.
CT: Yeah, I mean is she really the most qualified woman they could have turned to?
PN: The most qualified? No! I think they went for this — excuse me– political bullshit about narratives —
CT: Yeah they went to a narrative.
MM: I totally agree.
PN: Every time the Republicans do that, because that's not where they live and it's not what they're good at, they blow it.
MM: You know what's really the worst thing about it? The greatness of McCain is no cynicism, and this is cynical.
CT: This is cynical, and as you called it, gimmicky.
MM: Yeah.
Watch, AFTER THE JUMP…