Photographer Jill Greenberg, a shooter known for her efforts in retouching and Photoshop, was commissioned by The Atlantic to do a cover shoot for its October 2008 issue featuring the Republican presidential nominee John McCain.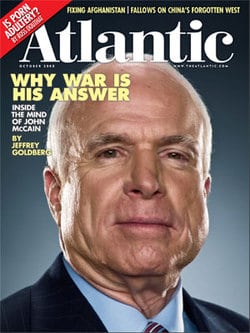 The outtakes from the shoot, one of which you can see AFTER THE JUMP, have quickly spread around the internet and earned Greenberg condemnation from the Atlantic's editor and the writer of the matching article.
Said editor James Bennet: "We stand by the respectful image of John McCain that we used on our cover, and we expect to be judged by it. We were not aware of the manipulated and dishonest images Jill Greenberg had taken until this past Friday. When we contract with photographers for portraits, we don't vet them for their politics–instead, we assess their professional track records. Based on the portraits she had done of politicians like Arnold Schwarzenegger and her work for publications like Time, Wired, and Portfolio, we expected Jill Greenberg, like the other photographers we work with, to behave professionally. Jill Greenberg has obviously not done that. She has, in fact, disgraced herself, and we are appalled by the manipulated images she has created for her Web site of John McCain."
The writer of the article on McCain slammed Greenberg as "juvenile" and "repulsive" saying he was "appalled" by her actions.
As Jockohomo notes, it's not the first time photos have been doctored in such ways. And certainly not the first magazine cover controversy of the season.
One of Greenberg's images, AFTER THE JUMP…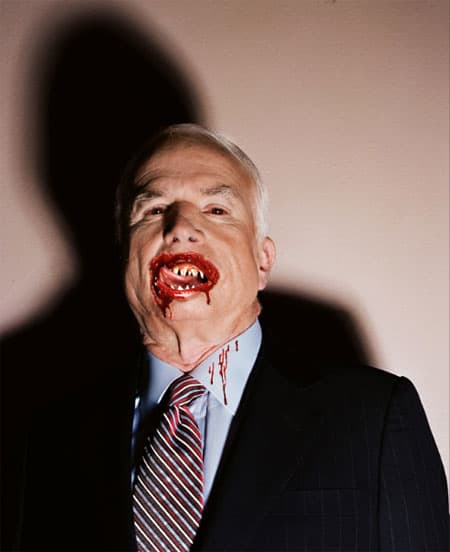 The other images are at Greenberg's site.