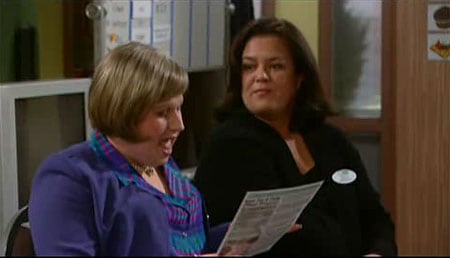 A group called the West Hollywood Gay and Lesbian Alliance is apparently up in arms over Little Britain USA, the American adaptation of the British series created by gay comic Matt Lucas and straight comic David Walliams. They say: "This is the most politically incorrect, offensive and obnoxious material ever seen in this country."
And that's the show's intent, as its many gay fans, including Rosie O'Donnell, know well.
On HBO's upcoming adaptation Little Britain USA, O'Donnell pays a visit to Marjorie and her 'Fat Fighters' weight-loss group. Marjorie refers to O'Donnell as a 'big lesbian lady' and spews the typical insults to her clients.
Says O'Donnell: "You know what Marjorie? I really cannot believe how you treat people! You're absolutely rude. You're homophobic, you're racist, you're meant to help these people and you keep ridiculing them about their size. It's disgusting."
Marjorie's reply to O'Donnell is about as rude and repulsive as we've come to expect from her.
Can anyone verify that the West Hollywood Gay and Lesbian Alliance actually exists? If not, we'll assume it's a PR stunt and be pleased there's still some sanity out there.
Watch it, AFTER THE JUMP (it starts at about 4:45)…
(via guytvblog)