McCain running mate Sarah Palin is receiving poor marks on her knowledge of foreign affairs and policy based on remarks she made at a 9/11 troop ceremony yesterday and excerpts from a 20/20 interview airing tonight.
Yesterday, at the ceremony to send her son to Iraq, McCain running mate Sarah Palin linked the war in Iraq to 9/11, the Washington Post reports, "telling an Iraq-bound brigade of soldiers that included her son that they would 'defend the innocent from the enemies who planned and carried out and rejoiced in the death of thousands of Americans.'"
Writes the WaPo's Anne Kornblut: "The idea that the Iraqi government under Saddam Hussein helped al-Qaeda plan the attacks on the World Trade Center and the Pentagon, a view once promoted by Bush administration officials, has since been rejected even by the president himself."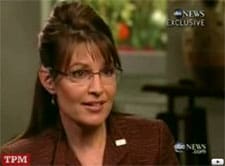 Her knowledge of foreign policy faltered in her interview with ABC's Charles Gibson as well.
Excerpts of the interview, which will air tonight on 20/20, were released last night. You can read them here.
Before offering Charles Gibson "a blizzard of words" on whether or not she believes the U.S. has the right to preemptive strikes, Sarah Palin is stumped when Gibson asks her about the cornerstone of Bush's foreign policy known as 'the Bush doctrine.'
It's no wonder they're not letting her talk to anyone.
Watch the clip, AFTER THE JUMP…
Via the Jed Report, here's McCain explaining the Bush doctrine:
And don't miss Palin's thoughts on going to war with Russia.