Bloggers Mike Rogers and Michelangelo Signorile have been working simultaneously on the same story, which they broke today on their respective blogs as well as Signorile's Sirius radio show. Both Signorile and Rogers, you may know, have become known for outing high-ranking political figures, and today they're reporting that former lobbyist and John McCain's chief-of-staff Mark Buse is gay.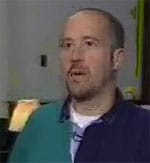 Rogers and Signorile decided to go public because of John McCain's anti-gay platform as well as Sarah Palin's Evangelical Christian background.
As you may know, John McCain doesn't even know what the acronym LGBT stands for. He also doesn't really believe in gay adoption, supports a ban on gays in the military, is worried if his clothing looks too gay, isn't sure if condoms stop the spread of HIV, thinks same-sex marriage ceremonies are okay as long as they're just pretend, and has promised right-wing religious groups that he'll start speaking out more vocally against LGBT causes.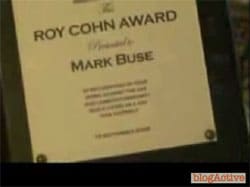 Writes Signorile: "Over the past month I've been contacted by three different individuals (two of them members of the Log Cabin Republicans) claiming that McCain's Senate chief of state, Mark Buse, is gay. None of these individuals would be quoted by name, though each described Buse as being rather 'open' to those around him and to his family – in a 'glass closet' rather than deeply undercover or trying to appear heterosexual. Then I was contacted in recent weeks by 46-year-old Brian Davis, an Arizona resident, who told me about his intimate relationship with Mark Buse (confirmed by his mother, as well as by a long-time friend), and who decided he needed to tell the truth about Buse, on the record, in light of John McCain's dramatic shift to the ideological religious right in this election and his choice of Sarah Palin, starlet of the evangelical movement, as a running mate."
Rogers went to McCain's office on Friday to present him with his "Roy Cohn Award" but Buse apparently hid in his office and wouldn't come out. Rogers has a video up on his site.
Signorile posted a very brief video clip given to him by Buse's ex-boyfriend when they were dating. You can watch it AFTER THE JUMP and read the details on Signorile's site.
Hypocrisy Bombshell: Antigay John McCain has a Gay Chief of Staff [the gist]
John McCain's Chief of Staff wins Roy Cohn Award [blogactive]