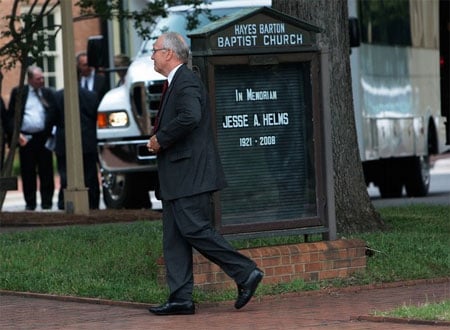 Senator Larry "not gay" Craig will never give up.
After receiving a "Public Letter of Admonition" from the Senate Ethics Committee in February for using leftover campaign funds to finance the quest to have his guilty plea overturned in the Minneapolis airport gay sex sting case, Craig began the formation of a fund to replace it.
The Idaho Statesman reports: "Sen. Larry Craig says the Senate Ethics Committee has cleared him to form a legal expense fund to back his year-long effort to reverse his guilty plea for misdemeanor disorderly conduct. Craig calls the new fundraising committee the Fund for Justice, according to Congressional Quarterly. Craig told CQ on Thursday that he's soliciting donations. 'I'm working at it now,' said the Idaho Republican who is retiring in January after 28 years in Congress."
Craig is required to file a public report disclosing activity, including names of contributors, to the fund in mid-October.
Continued, AFTER THE JUMP…