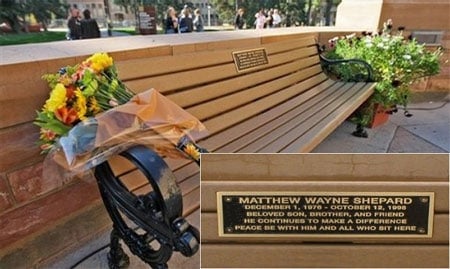 Given the impact that Matthew Shepard's death has had on this nation over the past ten years, I might have expected more than simply a bench in his honor in Laramie, Wyoming. However, some comfort can be taken in the foundation that bears his name as well as the tireless efforts by Judy Shepard over the years to speak out against anti-gay hate crimes.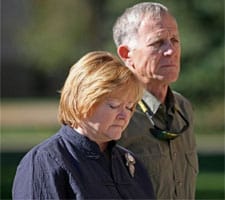 On Saturday, both Judy and Dennis Shepard attended a ceremony dedicating a bench to their son, as the 10th anniversary of his death approaches.
The AP reports:"Dennis Shepard said he hopes people enjoy the bench, which sits outside the university's arts and sciences building with potted plants and flowers on either side. A plaque affixed to the bench, paid for by the foundation, reads: 'Matthew Wayne Shepard Dec. 1, 1976-Oct. 12, 1998. Beloved son, brother, and friend. He continues to make a difference. Peace be with him and all who sit here.' … 'The words that we have written there are heartfelt,' Dennis Shepard said. 'Matt would have been the first to say so. And as far as we're concerned, with the words here, he's the last to say so.'"
Also attending the ceremony were University of Wyoming President Tom Buchanan, who said the school now has "an annual social justice symposium named after Shepard; created a resource center to support gays, lesbians, bisexuals and others; and developed a center for social justice to research and expose sources of inequity in society." Wyoming Gov. Dave Freudenthal and his wife, Nancy were there at the dedication as well.
The bench is located at Quealy Plaza, located at the east entrance of the UW College of Arts and Sciences Building.
NOTE: Reverend Fred Phelps and his band of evil apostles have been making the disgusting effort to place a hate monument to Shepard in Casper, Wyoming for years.
Related
Fred Phelps Renews Push for "Matthew Shepard in Hell" Monument [tr]