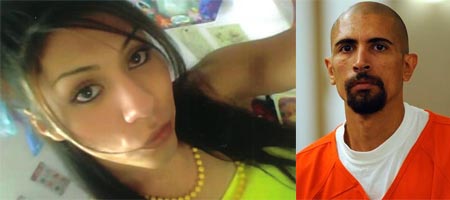 Allen Andrade, the man who brutally murdered Colorado transgender woman Angie Zapata in her apartment, offered another girlfriend a chilling statement that reflected his attitude towards gays, according to Greeley police detective Greg Tharp:
"When his girlfriend told him her cellphone was dying during a conversation with him, he said that was gay and 'all gay things need to die,' Tharp said."
Andrade has also described Zapata using the word "it".
Andrade appeared at a preliminary hearing on Thursday. He's charged with murdering Zapata after he discovered she was transgender.
According to the Denver Post: "Allen Andrade told his girlfriend that he 'snapped' when he learned the woman he had oral sex with the night before was biologically a man. Indeed, until he confronted 18-year-old Angie Zapata in her Greeley apartment in July, Andrade had no reason to believe she was born Justin Zapata, Andrade's attorney argued Thursday at his preliminary hearing in Weld County District Court…Only when Andrade grabbed at Zapata's crotch did he discover the truth. But when she smiled at him and said, 'I'm all woman,' it drove an enraged Andrade to commit murder, attorney Annette Kundelius said."
Kundelius was unsuccessful in arguing that a first-degree murder charge be dropped to second degree. She was also unsuccessful in removing a felony bias-motivated crime charge that would extend the sentence.
The next hearing is set for November 6.
Previously
Arrest Made in Murder of Colorado Transgender Woman [tr]
Colorado Transgender Woman Murdered in Suspected Hate Crime [tr]