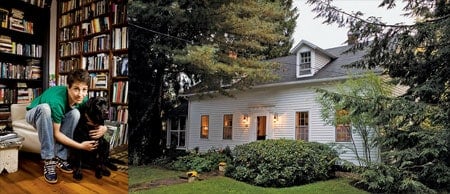 The NYT pays a visit to the home of MSNBC host Rachel Maddow in Western Massachusetts.
A few snippets:
"Favorite political memento: Two ashtrays from the Watergate Hotel. I bought them on eBay.
"Clothing item a talk-show host needs: For me, it is sneakers, which I can wear 80 percent of the time, secretly behind the desk. That reminds me who I am, even though I am dressed up like an assistant principal in order to meet the minimum dress code for being on television.
"Favorite movie: "The Manchurian Candidate," original version.
"Her 190-mile commute: It's an opportunity for me to turn my brain off. My apartment in New York is only 275 square feet. So just being able to stretch out is great.
"Morning routine: I arrive in Massachusetts around 2 a.m. Saturday. I wake up so that I can put the trash and recycling together and get it to the dump, which closes at 11 a.m. Me and the dog go to the dump. Then we drive to a sheep farm and I let the dog look at the sheep.
"Favorite Republican: I like the congressman and presidential candidate Ron Paul, because I understand what he believes, and he is fearless and civic-minded in his beliefs, rather than personally zealous.
"Worst thing about Obama: He's measured to a fault. He is so calm and cool and collected that sometimes I want to know what he feels.
"Best thing about McCain: He's very funny."
A Pundit in the Country [nyt]