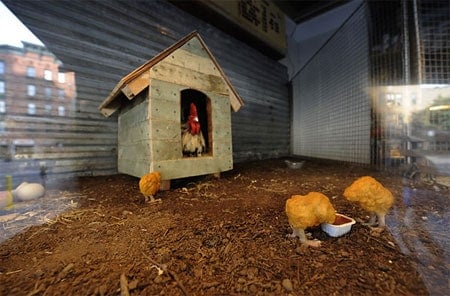 Street artist/prankster Banksy has unveiled his latest installation — a mock pet supply store on seventh avenue near Bleecker Street in New York's West Village.
In its windows, chicken nuggets dip themselves into sauce and a white rabbit wearing a pearl necklace files its nails in a mirror. There are also fishsticks swimming in a bowl (that look suspiciously like something else, I might add).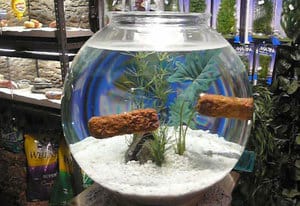 The NYT reports: "The Village Pet Store and Charcoal Grill, as the green awning reads, is Banksy's first official exhibition in New York, his representatives say, and it will be open to the public daily through Oct. 31. 'Open for Pet Supplies/Rare Breeds/Mechanically retrieved meat' says a sign in front of the shop. Bales of hay dot the sidewalk, along with a kiddie dolphin ride, wrapped in a fishing net like the day's catch. But it is the leopard in one of the storefront windows that stops passers-by first. 'Is that — real?' a woman asked on Wednesday, peering at a large furry object perched on a tree branch, its tail swinging. It's not: it is an ingeniously arranged fake fur coat. The robot monkey is more lifelike: it sits, breathing, in a cage inside the store, wearing headphones, holding a remote and watching a television clip of some fellow monkeys in an amorous moment."
This is the first time Banksy has used animatronics. More at Wooster Collective.
Said Banksy in a statement: "I wanted to make art that questioned our relationship with animals and the ethics and sustainability of factory farming."
Make SURE you check out the video, AFTER THE JUMP…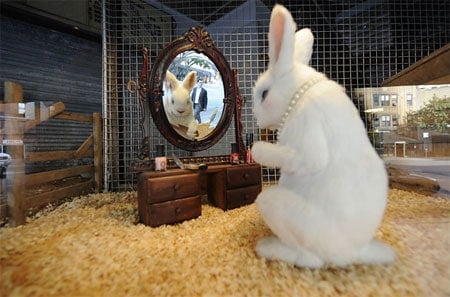 Where Fish Sticks Swim Free and Chicken Nuggets Self-Dip [nyt]
MORE: