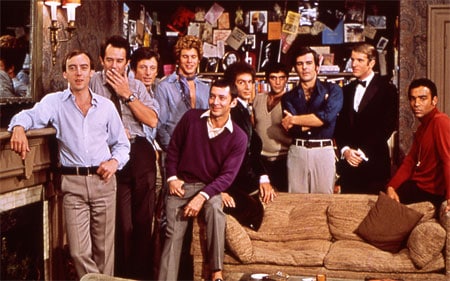 Mart Crowley's The Boys in the Band
is coming out for the first time ever on DVD on November 11th. The film, shot in 1970 and directed by William Friedkin, was based on the 1968 off-Broadway stage production. It certainly comes off as a period piece, but is one of the few pre-Stonewall depictions of gay life in film.
The film has been restored and color-corrected for DVD with stereo sound and Friedkin notes, "This is the best this picture has ever looked or sounded."
The DVD also includes documentaries about the play's creation, the making of the film, and interviews with Friedkin, Crowley, Executive Producer Dominick Dunne, Tony Kushner (Angels in America, Munich) and cast members Peter White and Laurence Luckinbill, along with a commentary track with Friedkin.
Check out three clips from the DVD, AFTER THE JUMP…