On Morning Joe this morning, John McCain made the following claim (which I'm aware is a common turn of phrase):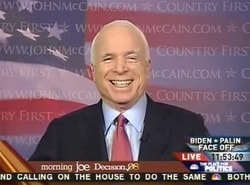 "I think the Dodgers are not to be underestimated given the fact that they've got some pretty strong pitching. So I think it's very possible that both of those teams, both the Dodgers and Red Sox, could surprise everybody. But that shows why I'm not a rich man."
The McCains have assets of at least $36.5 million and some have put Cindy McCain's assets near $100 million (see video). If you'll remember, at the Saddleback Church, McCain defined "rich" as having over $5 million.
The Senate just passed a $700 billion bailout measure in part to help many Americans avoid foreclosure on their homes, and McCain is making jokes that he's not rich???
Watch it, AFTER THE JUMP…
Previously
John McCain Doesn't Know How Many Houses He Owns [tr]
John McCain Defines Rich as Over $5 Million [tr]
He also said that the bill that he just voted for is "putting us on the brink of economic disaster."
In related news, McCain running mate Governor Sarah Palin claims she's "everyday working class" even though she has a $250,000 income, five properties, two boats, and a plane:
"Their combined income of nearly a quarter-million dollars last year was five times the median household income for Wasilla's 7,000 residents. They own a single-engine plane, two boats, two personal watercraft and a half-million-dollar, custom-built home on a lake that is worth three times the average of other homes in town. For the future, they also have a 401(k) retirement account compliments of Todd Palin's years as an engineer with oil giant BP."