Senator John McCain appeared on FOX News Sunday with Chris Wallace and made some interesting remarks.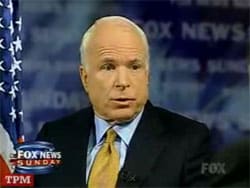 He called his choice of Sarah Palin as running mate "a cold political calculation" designed to be "a direct counterpoint to the liberal feminist agenda" in America and he couldn't be more pleased about it.
He also refused to distance himself from ugly robocalls that associate Obama with domestic terrorism, produced by the same firm that produced robocalls against McCain in 2000.
In 2000, when McCain was the target of those robocalls, he said, "I promise you I have never and will never have anything to do with that kind of political tactic."
Chris Wallace calls him on it. McCain says his "are legitimate and truthful."
Watch the clips, AFTER THE JUMP…