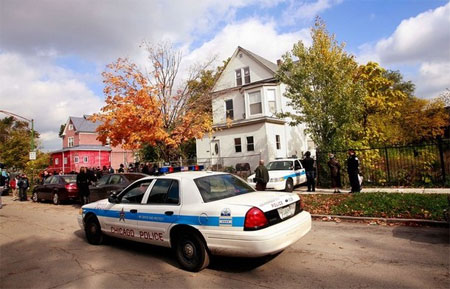 Police are still searching for Jennifer Hudson's 7-year-old nephew Julian King, who has been missing since the tragic shooting of the singer's mother and brother inside their Chicago home on Friday.
UPDATE: Child's body discovered in SUV.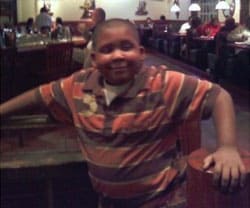 Hudson released a message on her MySpace blog over the weekend pleading for help and thanking fans for their support. She also released photos of Julian. Wrote Hudson:
"Thank You All. Thank you all for your prayers and your calls. Please keep praying for our family and that we get Julian King back home safely. If anyone has any information about his whereabouts please contact the authorities immediately. Here is a picture of Julian and what he was last seen wearing. Once again thank you all for being there for us through this tough time."
According to Chicago Breaking News, "Authorities issued an Amber Alert after the slayings for Julian and his stepfather, William Balfour, 27, who had recently separated from the boy's mother, Julia Hudson. Police arrested Balfour at his pregnant girlfriend's Southwest Side apartment a few hours after the bodies were found, but the boy was not with him. The Amber Alert remains active."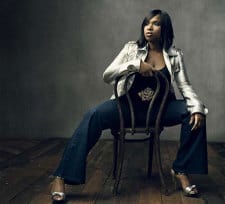 Barack Obama offered his support to Hudson, who sang the National Anthem before his speech at the Democratic National Convention in Denver, over the weekend:
"Michelle and I were absolutely heartbroken to learn about this unimaginable tragedy and we want Jennifer to know that she is in our thoughts and prayers during this very difficult time," the Illinois senator said. "We also pray for the swift and safe return of her young nephew."
Towleroad correspondents Josh & Josh, you may remember, conducted a Towleroad TV interview with Hudson earlier this month. In excerpts from that interview which did not make the cut, Hudson stressed the importance of her family in her life:
"I just grew up very close to my family and I have a huge family and they've always been real supportive and supportive of each other."
Our thoughts go out to Hudson during this difficult time.
Watch the TowleroadTV interview, AFTER THE JUMP…