This is frightening news, via DailyKOS: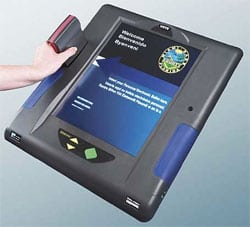 "ES&S iVotronics touch screens have already been observed now in four completely separate States, flipping the votes, in the early voting that has taken place to date. Eye-witness reports of repeated, consistent flipping of votes (from Obama to McCain naturally) has already occurred in the States of: West Virginia, Tennessee, Missouri, and Texas that have had early voting. Missouri, of course, is a key background State in McCain's electoral vote math.
These are not "glitches".
This is also not the result of just "one faulty machine".
How about some straight-talk:
Fact: This is not a 'glitch"'.
Fact: This is not a one machine problem.
Fact: This is not a one State problem.
Fact: This is not a one Election problem.
Fact: This is neither a 'theory', nor speculation. It's real.
Fact: The Democratic candidate is getting their (would be) votes systematically stolen."
The Daily Beast posted a story yesterday about Obama's massive legal operation. I hope they are on top of this.
WIDESPREAD TOUCH SCREEN VOTE FLIPPING!! [daily kos]