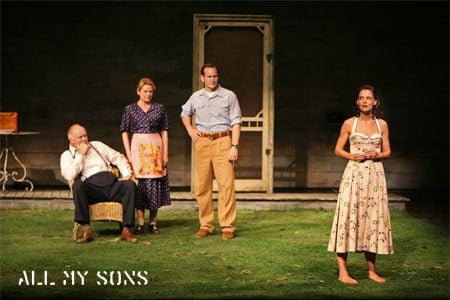 Here is the second part of this week's theatre review by Kevin Sessums, continuing on from yesterday's look at A Man for All Seasons. You can also catch up with Kevin online at his own blog at MississippiSissy.com.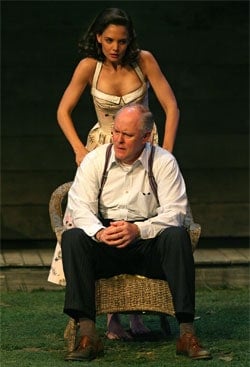 Director Simon McBurney — whose work with London's Complicitie theatre company has been rightly and internationally praised — has taken a completely different tact in his approach to Arthur Miller's first great Broadway hit, All My Sons. His reverence for the play doesn't frame it — congeal it really — in a proscenium's constraints as Hughes has chosen to do with A Man for All Seasons, but instead uses so many directorial arrows in his quiver that we almost lose sight of Miller's always lovely, sometimes lacerating realism. This production never lets the audience forget that IT HAS BEEN DIRECTED. At times I felt as if I were watching a conductor hoist his baton in front of an orchestra instead of being able to forget there is a director's invisible hand at work. I was always enraptured but seldom moved. The stagecraft of the production impressed me — as did the acting — but I was never able to forget I was watching a play being performed instead of inhabited.
Ben Brantley of the New York Times kept referring to the Greek tragedy qualities that this production highlights, but I kept being reminded how influenced the young Miller had been by Ibsen. There are obvious parallels in this early Miller work with The Master Builder and The Wild Duck and An Enemy of the People in which the results of a factory owner's war profiteering disrupt his life in a tragically personal way.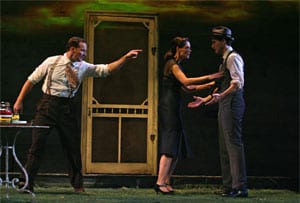 But let's go ahead and get this aspect of the production out of the way. Katie Holmes, in her Broadway debut as Miller's toughened yet tenderhearted ingenue, Ann Deever, is first-rate — or will be with even more performances under her belt. So many screen actresses can only summon their talent in emotional segments because of the technical stop-and-start intricacies involved when working on a film and seem stranded when not losing their balance completely as they attempt to walk the uninterrupted dramatic through-line required of great stage acting. Holmes more than keeps her balance. And when she's emotionally stranded onstage, it is her character Ann Deever's predicament she is making us so expertly feel. There is such a primal scream of misplaced love and angry loss that comes from her in the second act, it hits the audience in its collective solar plexus. It's a moment that must please her husband, Tom Cruise, as a fellow actor but perplex him as a husband. Pleased or perplexed, I am certain he must be proud of his wife for she is proving, just as her character proves throughout the play, that she is no shrinking violet and should not be underestimated.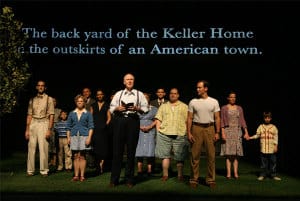 John Lithgow is giving a Tony-worthy performance as the factory owner. Dianne Wiest, a bit miscast as his midwestern housewife, is still able to hone in on the horrible hearbreak and equally horrible knowledge that she must live with day-in and day-out. Patrick Wilson, as the couple's surviving son, is at his stolid best and, in the climatic scene with Lithgow, more than stolid: he is stunning. The rest of the cast is at the baton-wielding whim of the director. At times McBurney's production was like watching Our Town as if it had been written by Clifford Odets or Bertolt Brecht. At other times I kept thinking of Dogville, the Lars von Trier film which starred Tom Cruise's former wife, Nicole Kidman, for McBurney has turned All My Sons into the kind of heightened neo-artistic indictment of the American dream so coldly distilled in Dogville (their tacked-on endings of images of our country's unwashed-masses even mirror each other) instead of Miller's more heartfelt and, yes, homegrown version of that same indictment. But trust me on this: the production will never bore you.
T T T (out of 4 possible T's)
All My Sons, Gerald Schoenfeld Theatre, 236 W. 45th Street, New York. Ticket information here.
***SPEED-THE-PLOW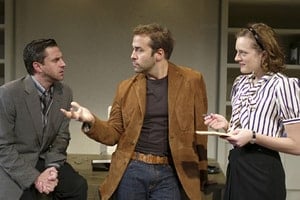 The three happiest faces in New York were those of Jeremy Piven, Elisabeth Moss and Raul Esparza — the three stars of the Broadway revival of David Mamet's Speed-the-Plow — as they came back for yet a second curtain call during the audience's standing ovation at the Ethel Barrymore Theatre on only the second night of previews, which was when I caught the revival of this production. The three actors had just given a performance of the play that made it seem as if they were already in the second month of their run. They were hitting on all cylinders as they mined the acrid ore of Mamet's singular cynicism.
Continued, AFTER THE JUMP…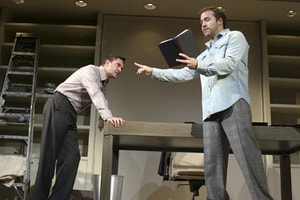 The audience was already buzzing before the performance in anticipation. When I sat down, in fact, before the curtain went up, the two young women next to me were excitedly conversing in a language I could not even decipher. The only words I understood were "Jeremy" and "Piven." Every time those two were pronounced a kind of universal shiver shaded their vowels.
"Excuse me," I said. "Sorry to interrupt. But what language are you speaking?"
"Hebrew," said Dafna, the one closer to me as she rolled her eyes. How could a New York theatregoer not recognize Hebrew?
Alex, her friend, chimed in. "We're huge Entourage fans. We love Piven. Love him!" she said of the actor who is the main draw in this production directed by Neil Pepe, Mamet's protege at their Atlantic Theatre, which they founded back in 1983 off-Broadway.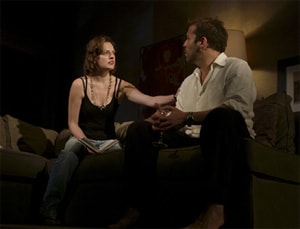 Mamet promised this production to Pepe long before Kevin Spacey starred in his own version last year at London's Old Vic Theatre, where he is the artistic director. There was talk of moving that hugely successful production to Broadway but Mamet remained loyal to Pepe. Thank God. Pepe is becoming one of the best stage directors in town and has chosen not to deconstruct the play in the Dogme 95 cinematic style of von Trier as McBurney did with the Miller production or to keep the play in its dramatic mothballs as Hughes did with the Robert Bolt. He chose instead to make the Mamet dialogue move with a younger gait but to honor the always graceful sway of the playwright's poetic vulgarity. It was all rather dizzying but delightful — like watching Fred and Ginger happy to have a go at hip-hop.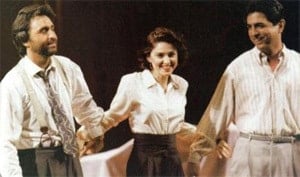 I told my new friends seated next to me, Dafna and Alex, that I had seen the original production of Speed-the-Plow back in 1988, which had starred Joe Mantegna as Jerry Gould, the role that Piven was about to play, a fictional counterweight to his agent Ari Gold in Entourage for Gould is the head of production at a Hollywood studio. Gold and Gould are on different teams out on the west coast but the teams never forget they play in an intramural league. Ron Silver gave a Tony winning performance back then as Charlie Fox, Gould's producer buddy. Madonna did not give one as Karen, the young woman who, as Gould's temporary secretary, furnishes a tincture of altruism that proves too acidic when added to the crassness that is the base element of the town's ambition.
"Jeremy is our Madonna," said Alex.
Dafna now rolled her eyes at her friend.
They continued in Hebrew.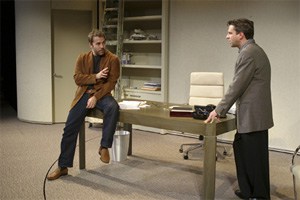 The packed audience seemed to be interspersed with the Alexes and Dafnas who had come to see their fireplug-as-sex-symbol — Piven more than acquits himself — and the Mad Men enthusiasts who had come to see Elisabeth Moss in the role of Karen. She is remarkable in the role — sexy and troubling at the same time. Moss portrays Peggy Olson on the Sunday night AMC drama that has captured the imagination of a kind of literate baby-boomer tv viewer. Indeed, Olson could pass as the Karen in her own office, the 1960s ad agency where much of Mad Men takes place. The rest of the audience there for the second preview was made up of New York theatre mavens who always flock to see one of this coast's reigning stars, Raul Esparza, the actor taking on the showy Charlie Fox role. They know that after his stunning performances in the last two Broadway seasons, as lonely Bobby in the Sondheim musical Company and the pimp Lenny in Pinter's The Homecoming, Ezparza has become the most interesting actor to rise from along the Rialto in years. Mamet has written the role of Fox as a scene stealer and Ezparza steals two of the three that make up the play's ninety scalding minutes. Company. The Homecoming. Speed- the-Plow. Esparza is about to complete a Broadway hat trick.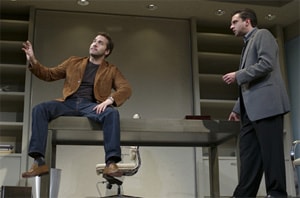 What's the play about other than the age-old conflict of commerce vs. art? I'll let Mamet speak for himself. Back in 1987, I interviewed him ostensibly for his film, House of Games, which was to premiere at the New York Film Festival that fall. But we veered off to talk about a little play that Lincoln Center had agreed to produce the next spring. This was before Madonna let her roots grow out and joined the cast. I asked him if it were a comedy? "I hope so," he said, chuckling and lighting a cigar. "It takes place in the office of a guy who just got appointed head of production at a major studio. It takes place between him and his underling who he's known and has been eating his dust for the last twenty years and his temporary secretary. He wants to fuck his temporary secretary. He figures the best way he can fuck her is to impress her and kind of co-opt her so he gives her a book which is about the end of the world. He tells her he needs a report on this by the end of the night. Would you mind giving me a reader's report, he says. Come over to my house around 11 o'clock. So she comes over to his house and she convinces him to make this film about the end of the world, to actually greenlight it. And then the next day is about his friend trying to talk him out of greenlighting the book about the end of the world."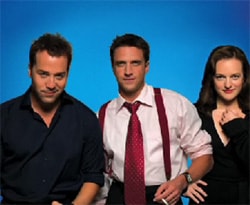 The audience more than chuckled at Mamet's indictment of Hollywood. And yet, is this play really an indictment? Mamet the artist has often said one of his main goals as a writer is to put butts in the seats — just like the choice that Fox and Gould make. He's certainly prescient in two respects. Although the play was written twenty years ago, that end-of-the-world book on which so much of the plot hinges sounds a lot like Cormac McCarthy's The Road, which got the greenlight from Bob Weinstein's Dimension Films and has recently wrapped. I kept thinking during the play, but that damn thing did get made into a film. And then there's this from the mouth of Fox in one of his many diatribes. The audience actually stopped the first scene of the play cold for a few moments as it erupted in applause when Ezparza delivered it:
"The one thing is nobody pays off on work. Everybody says, 'Hey, I'm a maverick.' There's no such thing as a maverick. But what do they do? Sit around like, hey, Pancho-the-dead-whale …"
T T T T (out of 4 possible T's)
Speed-the-Plow, Ethel Barrymore Theatre, 243 W. 47th Street, New York. Ticket information here.
Previous Reviews
On the Stage: A Man for All Seasons [tr]
On the Stage: Equus and The Seagull [tr]