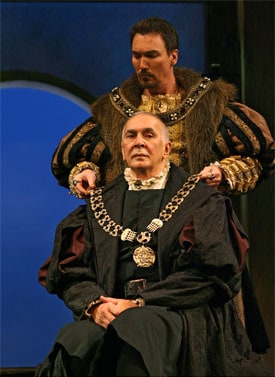 During the slowest sections of this production of A Man for All Seasons my mind wandered to dear George, one of the greatest of Broadway's character actors. Some of you Towleroad readers may remember him from the Kevin Kline/Linda Ronstadt Pirates of Penzance production in which he played Major General Stanley or his multiple roles in The Mysteries of Edwin Drood or as Lynn Redgrave's buddy in My Fat Friend or as Alfred Dolittle in the 1976 revival of My Fair Lady. He won Tony Awards for My Fair Lady and Edwin Drood and was nominated for Pirates and My Fat Friend.
Rose was a great friend of Bob Borod, the production stage manager I had when I was in Equus (see my previous review of that revival) and they both took me under their collective wing in the late 1970s. George had been in the production of the Katherine Hepburn musical Coco as well, which was based on the life of Coco Chanel and for which Bob had also been the stage manager. He played Chanel's great friend Louis Greff and received his first Tony nomination for that portrayal. The three of us would all sit up late at Bob's apartment at 40 Fifth Avenue and they would regale me with Hepburn stories and play me tapes of rehearsals that Bob had surreptitiously made when she was learning her musical numbers. George, shocked at how insufferably precocious I had been in sixth grade to attempt to mount my own production of A Man for All Seasons back in Missisippi, would also regale me with stories of the Broadway production and which members of the cast suffered from the severest bouts of flatulence at the play's most dramatic moments.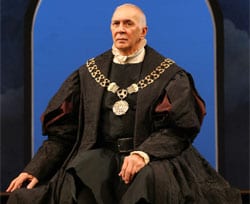 Once I even volunteered to feed Rose's pet lynx — yes, a pet lynx — he kept in his New York City apartment. It was one of the oddest and scariest things I've ever done in my almost 34 years in NYC and believe me I've done some odd and scary things in this odd and scary city. George had been down at his house in the Dominican Republic. He loved it there so much he even adopted a 14-year-old boy from there since, as an openly gay single man, he had no heir of his own. A few years later his adopted son and the son's real father and uncle beat him to death during one of his visits down there where he is now buried in a non-descript grave in an overgrown cemetery.
I kept thinking of George Rose and how sardonic he would have been about his role as the Common Man being cut from the Langella production of A Man for All Seasons. He was one of the most uncommon of men himself. He suffered an awful death but his life was a singular one — much like Sir Thomas More — and yes, dear George, I know you're now rolling your eyes as well at that last line.
T T 1/2 (out of 4 possible T's)
A Man for All Seasons, Roundabout Theatre Company at the American Airlines Theatre, 227 West 42 St., New York. Ticket information here.
(images/joan marcus)
Previous Reviews
On the Stage: Equus and The Seagull [tr]