McCain debuts new speech, portraying himself as underdog: "Allies are calling this 'hitting the 'reset' button' on the campaign, with McCain re-emerging after a long Sunday strategy session with a feisty tack that uses candor and humor, at a time when his rallies have become known for raucous rage and clumsy attacks. But it's more like hitting the panic button."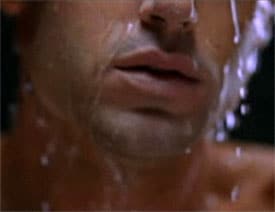 Britney Spears' new "Womanizer" video.

Tina Fey "done" if Palin wins: "We're gonna take it week by week. If she wins, I'm done. I can't do that for four years. And by 'I'm done,' I mean I'm leaving Earth."

Jacob Reitan, graduate student and former head of Soulforce, pens open letter to Ellen DeGeneres asking why she has not donated to Proposition 8: "Why is this? You make tens of millions of dollars a year. You and Portia recently got married. Surely, you know how important keeping that right is to you and your family. If we are to win, we desperately need your financial support." It's a question that has been simmering. Donate to No on Prop 8 HERE.

Karen Ocamb: Are Democrats and Obama throwing gays under the bus with regard to Prop 8?

Hilary Duff, Lance Bass, Jennie Garth work the red carpet at GLSEN's Respect Awards…

Mormons speak out against the Church of Latter Day Saints' campaign for ban on same-sex marriage.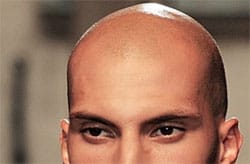 Scientists discover genetic variants that boost the odds of male baldness: "he two variants are located on a stretch of DNA on Chromosome 20, according to a study carried out on 1,125 men of European descent. These variants are present in one in seven Caucasian men and provide novel insights into the cause of this common and sometimes distressing condition,' the team said."

Barack Obama received endorsements from 15 newspapers on Sunday: "Backing Obama: In Ohio, The Blade in Toledo and the Dayton Daily News; the Pittsburgh Post-Gazette, St. Louis Post-Dispatch, The Tennessean of Nashville, the Wisconsin State Journal. the Asheville (N.C.) Citizen-Times, and in California the Fresno Bee, Sacramento Bee, Contra Costa Times, The Herald of Monterrey, and The Sun of San Bernardino (which had picked Bush over Kerry). Joining the Obama team in battleground states were the Muskegon (Mich.) Chronicle, the Lehigh Valley (Pa.) Express-Times and Springfield (Ohio) News."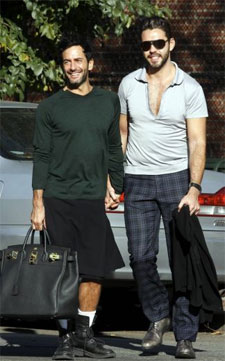 Marc Jacobs, his skirt, and his boyfriend take the streets of Manhattan.

Miami Herald recommends "no" vote on anti-gay Amendment.

Scissor Sisters to play surprise gig at New York's Mercury Lounge?

Orlando Gay Pride focused on "emotional pleas" to defeat Amendment 2, and police chief Val Deming's pledge to fight anti-day hate crimes: "'We will not tolerate any individual who would threaten to do harm because of someone's race, religion, political affiliation or sexual orientation,' she said. Demings' remarks came 10 years to the day of the death of Shepard, who was beaten, tied to a split-rail fence and left to die on a Wyoming prairie. She was followed by the parents of Ryan Keith Skipper, a 25-year-old gay man who was killed in Polk County in 2007, and Sean William Kennedy, a 20-year-old Greenville, S.C., man who died in 2007 after being punched in the face because he was gay."

Kylie Minogue musical waiting in the West End's wings?

Rupert Everett to star opposite Christine Ebersole in Broadway revival of Noel Coward's Blithe Spirit. Performances to start at the end of February.

Hugh Jackman in his birthday suit.

ELECTION THEFT: A warning about what the Republican Party may be trying to do with the recent ACORN scandal. Here's something else to read for anyone who's fallen for the GOP's Dixie-chicking of ACORN.