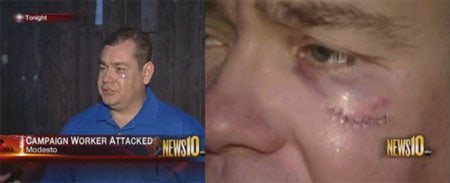 Protect Marriage (the campaign pushing for Proposition 8, the ban on same-sex marriage) claims that one of their volunteers was assaulted while waiting to distribute "Yes on Prop 8" signs outside a church (note: link takes you to Protect Marriage's site).
"Prop. 8 supporter, Jose Nunez, 37, was brutally assaulted while waiting to distribute yard signs to other supporters of the initiative after church services at the St. Stanislaus Parish in Modesto. The assailant grabbed about 75 signs and yelled at Nunez accusingly, 'What do you have against gays!' Although Nunez replied that he had nothing against gays, he was attacked anyway. The assailant punched Nunez in the left eye and ran off with the signs. Nunez, his eye dripping with blood, walked into a building on church grounds where a fellow parishoner called 911. Police and paramedics responded to the scene. Nunez, who suffered a bloody eye, serious wounds to his face, and a scratch to his knee, was rushed by ambulance to a local hospital where he received 16 stitches under his eye. According to the Yes on 8 campaign, the attack shows that their opponents are not as tolerant and open-minded as they would like voters to believe."
Here's a report from News10.
NO on Prop 8 Campaign Director Patrick Guerriero released this statement last night in response to the report:
"The No on Prop 8 campaign condemns violence or any sort. We are deeply concerned to hear the news of a lawn-sign incident that apparently involved the injury of one of the volunteers for the Yes on 8 campaign. This incident – or anything like it – should not be tolerated in any campaign. However, we deplore the tactics unleashed today that blames the NO on Prop 8 campaign for this despicable act. To take something this unfortunate and use it for political gamesmanship is a disgrace. Our campaign has always been about dignity and respect for all Californians. We call for a peaceful, honest and just campaign on both sides."
Obviously this is a deplorable act if true. It's also a deplorable act if it's some kind of sick stunt by the "Yes on 8" people, and should not be a distraction from the tactics their group and other "pro-family" right wing Christian groups use on an ongoing basis to oppress LGBT people and deny them basic human rights.
CLICK HERE to defeat Proposition 8 without violence.