They've been deliberating the case for two days and there's evidence of disagreement: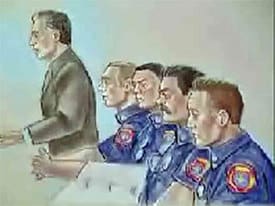 "The panel submitted three questions Thursday to San Diego Superior Court Judge Michael Anello; contents of two of the questions were not disclosed. In the morning, the jurors asked the judge about the amount of jurors needed to reach a verdict. The question was quickly answered: at least nine jurors need to agree on a count in order to reach a verdict in a civil trial. Two other questions were submitted to Anello Thursday afternoon."
On Wednesday, a lawyer asked for $1 million for each firefighter in the case.
Background
Atty Wants $1 Million Each for SD Firefighters 'Harassed' at Gay Pride [tr]
Judge: Firefighters Case Ready to Go to Jury [tr]
Firefighter Testifies in San Diego Gay Pride Trial [tr]
SD Firefighters Required 'Critical-Incident Stress Debriefing' After Gay Pride Parade [tr]
San Diego Firefighter Gay 'Harassment' Trial Begins [tr]
San Diego Firefighters Claim Threats After Gay Pride Complaint [tr]
San Diego Firefighters Sue Dept for Gay Pride Sexual Harassment [tr]