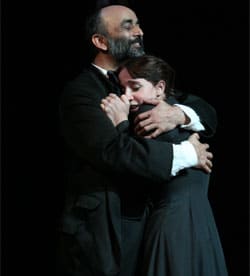 But I'll let Christopher Hampton, who adapted this version of the play, sum up so much of the appeal of this production when being interviewed by NPR about it. "Somehow we have a tendency to dilute what in Chekhov is quite crisp and quite blunt, actually," said Hampton. "Chekhov used to be thought of as a lyrical, melancholy kind of writer and he isn't. He's a very muscular, energetic, clear, lucid writer. This is the best play that exists about writers and actors."
This production takes so many of those qualities that Hampton has mined in the original Russian script — the muscularity, the bluntness — and through the, yes, lucid performances of this exemplary cast brings us one of the most pitch-perfect takes on Chekhov's play I've ever seen — including the Mike Nichols directed Shakespeare in the Park one back in 2001 with Meryl Streep in the Arkadina role and the Classic Stage Company's production this past spring with Diane Wiest as the Russian diva. It's a tone that is quite difficult to decipher. Indeed, the very first production of The Seagull in 1895 was such a disaster and so rudely received by its audience that the great Russian actress Vera Komissarzhevskaya, who played Nina, the play's famously disillusioned ingenue, lost her voice during the production. Chekhov himself hid out backstage after the first act and swore never to write another play. It was not until the great director Konstantin Stanislavsky mounted another production of the play at the Moscow Arts Theatre two years later and convinced Chekhov to see it, that the playwright was inspired enough to continue writing.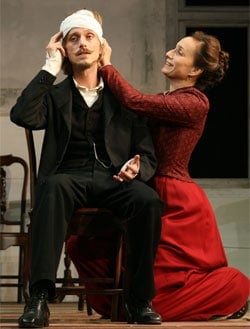 The Nina of this latest production is first-rate, the heartrending Carey Mulligan. She is from the original Royal Court production, as is Mackenzie Crook, who plays Konstantin, the tortured son of Madame Arkadina. Crook, who resembles Wally Cox if he had ever played Kurt Cobain, is one of the strangest looking of leading men and yet also the most compelling. I saw him a few seasons back as one of the inmates in the West End production of One Flew Over the Cuckoo's Nest that starred Christian Slater. As good as Slater was in that production, it was hard to take one's eyes off Crook who always crept into one's line of vision, even when standing completely still. It's the same quality he has in The Seagull. He's mesmerizing.
Also outstanding is the young American actress Zoe Kazan as Masha. The night I saw the play she received exit applause in her first scene in the second act. This is the third time I've seen Kazan in the last couple of years and she just gets better and better. A major stage actress is developing before our eyes. Peter Sarsgaard is still finding his dramatic legs as Arkadina's love interest, the middlebrow writer Trigorin. Sarsgaard has a tendency to rely on his patented prissy eccentricity that he so often displays in independent films. He's not bad just not as good yet as all those who so seamlessly are a part of this splendid ensemble.
If you've never seen a Chekhov play, make this your first. If you think you've seen too many, convince yourself to see one more and make it this one.
The Seagull, Walter Kerr Theatre, 219 West 48th Street, New York. Ticket information here.
T T T T (out of 4 possible T's)