Six members of the gay Christian group Soulforce, which is taking its 2008 Equality Ride to Christian colleges and universities across the South, were arrested after being barred from the Palm Beach Atlantic University campus. They arrived there on Monday to meet with students and raise awareness about tolerance and the lack of safety of gay and lesbian students on campus.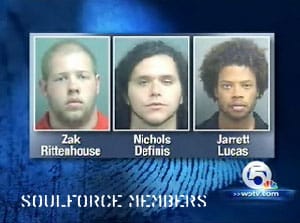 Soulforce writes, in a press release: "As ten of the Riders were turned away, six remained and were arrested, one by one. Those arrested were Jarrett Lucas, 22, from Philadelphia, Danielle Cooper, 19, from Maplewood, NJ, Lauren Parke, 25, from Seattle, Enzi Tanner, 24, from Minneapolis, Nicholas Rocco DeFinis, 22, from Lansdale, PA, and Zak Rittenhouse, 21, from Frankfort, OH. Students looked on as the young adults were placed in handcuffs and moved into a police van." Those arrested are set to go before a judge today.
Here's a report from WPTV.
Soulforce adds: "Today's visit to PBAU comes after a night of harassment for participants of the Equality Ride. Sunday evening, the glass door of the bus was bashed in with a hard object. Two panes of glass were shattered and small portions of the vinyl wrap were scratched off. A police report of the incident was filed."
The group recently completed a very successful visit to the late Jerry Falwell's Liberty University.
Six arrested during protest at Palm Beach Atlantic University [sun-sentinel]
Equality Ride Faces Vandalism, Arrests at Palm Beach [soulforce]
Florida Christian University Welcomes Gay Youth with Handcuffs & Brick [gaysofla]